On the edge of Ermoupolis, the main town of Syros, there is a cat colony that is mostly made up of 'marmalades' and we don't want to see the numbers increasing any further. Not that we don't love marmalade cats, but overpopulation leads to all kinds of problems (disease; starvation; acts of cruelty) and it's the cats that suffer.
For some time now we have been supporting the TNR (Trap, Neuter, Release) programmes run by both 'Syros Cats' and 'We Live Together'. We Live Together recently targeted this colony of 'marmalades' in the district of Manna which, although it was being fed, had not been spayed/neutered… until now. With 13 surgeries completed and just 5 more wary individuals evading capture, the project has reached 75% of its target and We Live Together will keep returning until all of the colony's members have been sterilised. In this effort, the two local, volunteer "cat watchers" play a crucial role. They are the ones who know each animal and the places they frequent. They are quietly determined to trap them all because we believe that together we can demonstrate the effectiveness of a determined and prolonged sterilisation programme.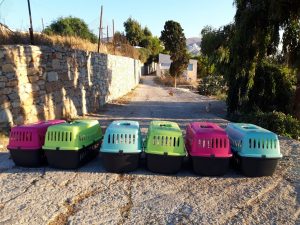 Just making sure strays are fed is never going to be enough on its own. In fact, it makes overpopulation worse. Well-fed animals breed more successfully, and the unwanted kittens all too often end up dumped in the nearest litter bin. So, feeding MUST go hand in hand with a spay/neuter effort. We still meet resistance to this approach; there are always a few people claiming that neutering is 'against nature'. It is an attitude that vet, Manolis Vorisis, (who leads the social enterprise 'We Live Together') and his team have no patience with. There shouldn't be hordes of diseased and betrayed companion animals existing on the edge of starvation and fighting to survive in our towns and villages. The challenge is to get people to see that that's against nature, too.
Will you help us to promote responsible cat ownership in Syros and other parts of Greece?
You can donate now at:
www.animalactiongreece.org/donate
Thank you for caring, and for everything you do.