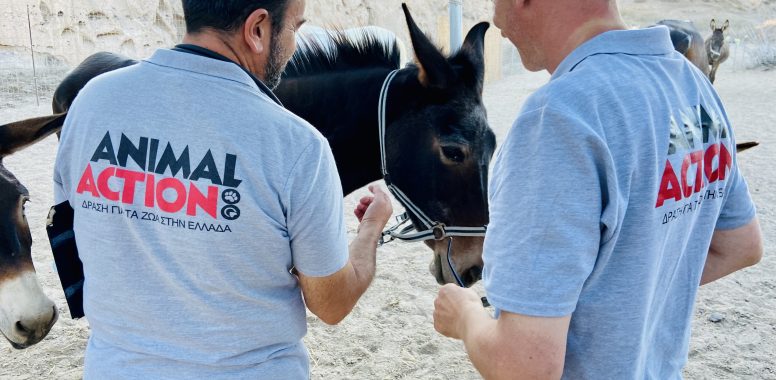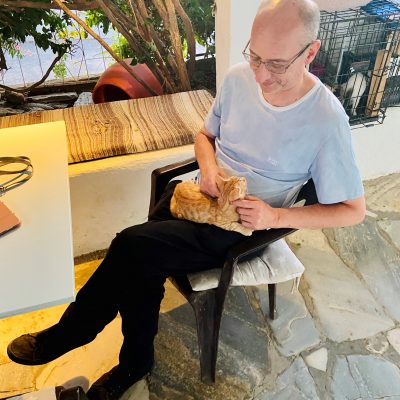 DAVID SALISBURY JONES (CHAIR)
David had lived all his life in London. He studied veterinary medicine at Cambridge and has been working as a small animal vet in Streatham for the past thirty years.
In his surgery he treats mainly cats and dogs, but he also often sees rabbits, mice, hamsters and other small rodents as well as reptiles. David has served as a Councillor in the Borough of Lambeth. He has three children and cats.
David became the Chair of the Animal Action Greece Board in 2021.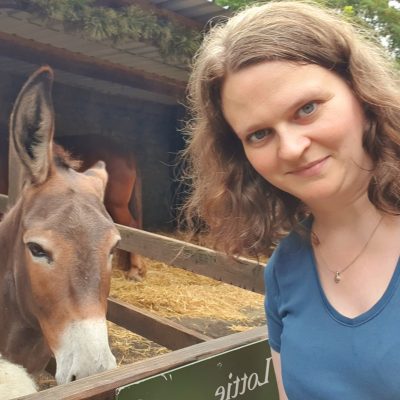 ELIZABETH ANDERSON
Growing up as a child and teenager, Elizabeth's family home was shared with rescue dogs. She campaigned for animal welfare organisations including as the youngest youth contact for a well known animal protection charity.  Throughout her life she has been keen to support these types of activities, whether helping individual animals, or advocating for changes that can support better care for animals around the world.
Today, Elizabeth is a charity leader – her career has mainly focussed on governance and stakeholder engagement, having worked in a range of high profile institutions and campaigns, including in the education, science and health sectors. Elizabeth now lives in Kent in England, and enjoys travelling with her husband, gardening and baking.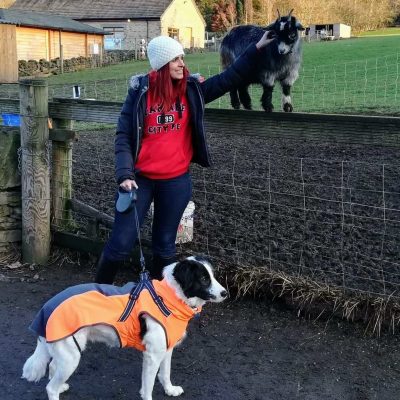 Lina Soura
Lina is an Operations and Governance Executive with a track record in leading large education teams. Lina has also held a number of volunteering roles with animal charities in Greece and the UK as well as being a School Governor twice in the past ten years. 
Animals have always played a role in Lina's life and she is mum to two cats, Trouble and Penny, and a dog, Ellie (pictured) rescued by Ghost Dogs of Aspropyrgos in 2018. Lina lives in the North of England, South Yorkshire, although she has lived in four different countries and enjoys exploring the world with her husband. She is a proper foodie and being originally Greek, she's committed to turning every traditional meat based Greek meal into a vegetarian masterpiece! She loves watching sport, going to the theatre and adores wildlife. Goats, squirrels and foxes make her really happy! Oh and seals, and penguins, and otters!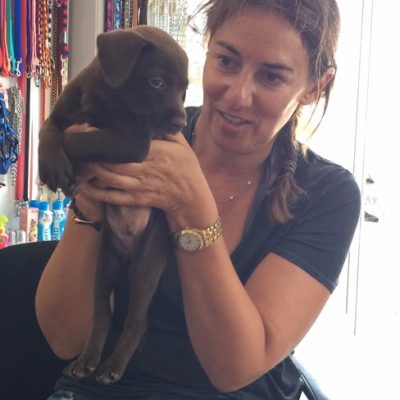 MARIA MARINOS
Maria's professional background is in financial reporting, editing and Public Relations for major institutes both in the UK and in Hong Kong, however in more recent years she co-founded the London based interior design studio, Marlo.
Maria was brought up in Essex surrounded by both horses and dogs and she is the proud owner of Leo, whom she rescued from a life on the streets of a Greek Island.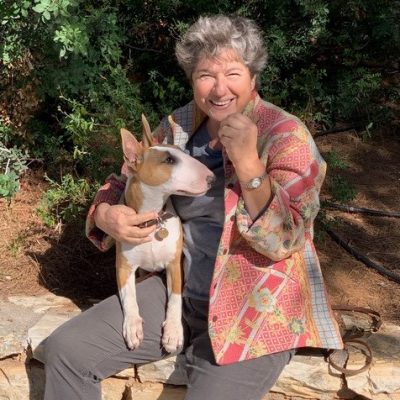 ANNA STAMATIOU
Anna was born of Greek parents, in 1955. In 2007 having lived most of her life in London, she moved to Greece and now lives in central Athens.
Her interest in animals and the environment led her in 2005 to become a founder-member of Chios Nature – a group dedicated to the wildlife of Chios, the Aegean island that her family is originally from. Anna is also a Board Member of MEDASSET (working for the conservation of sea turtles in the Mediterranean).
She contributes principally to the communication and awareness work of the organisations she supports, and particularly enjoys devising innovative educational programmes and games for young people. She has shared her life with her husband, Andreas, two sons, four grandchildren (so far) and, to date, six English bull terriers (though not all at the same time)!
Anna harbours an as-yet-unfulfilled ambition one day to swim in the sea alongside a wild turtle.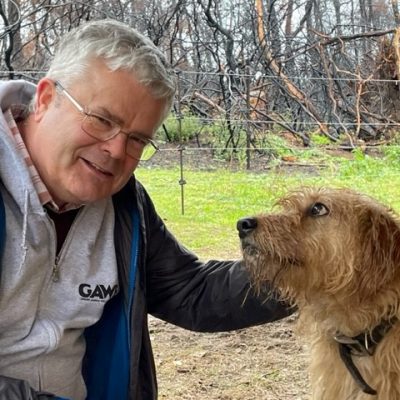 PAUL MCGLONE (TREASURER)
Paul has a life-long love of Greece and animals, having been charmed in his youth by reading Gerald Durrell's 'My Family and Other Animals' trilogy. He also cemented this love as one of a group of 10 fellow Tasmanians he was on a canoeing expedition with around the Greek islands. Fast forward to the present, this job allows him to pursue both passions – animal welfare and Greece!
Paul has led the charity since March 2018 through a period of rapid change, including during the pandemic. He has since July 2020 carried out a dual role as the Director and President (of the Board of Directors) of Animal Action Hellas in Greece, as well as being a Trustee and the Treasurer of the UK charity.
Paul has had a 20 year career in local government, having been an elected local government councillor in Lambeth from 1998 to May 2018, when he stood down. In that time he was Deputy Leader of the council for four years and led on finance for a decade. Professionally, Paul has wide experience as an accountant and senior manager in both the private and public sectors. Over his career, he has worked in Australia in the hotel industry; in Germany in the Film and TV sector; and then for some years in the music industry based in the UK, working at international HQ of PolyGram International, then one of the 3rd largest music companies in the world.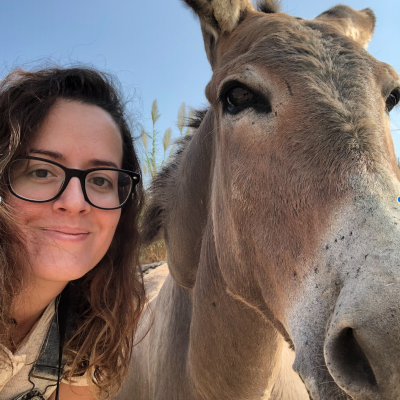 SOPHIA KYRIAKOPOULOU (OPERATIONS & FINANCE MANAGER)
Sophia Kyriakopoulou joined Animal Action Greece/Animal Action Greece in 2017, and is responsible for the management of our operational animal services. She holds a BA in Communication and Media as well as a MA in Conflict and Communication from the University of Athens.
Sophia is passionate about animal welfare and in her spare time she fosters stray kittens. She loves to travel but not as much as she loves cats and dogs. Her spoiled adopted cat Yaya and her two dogs Gus and Kika can confirm this.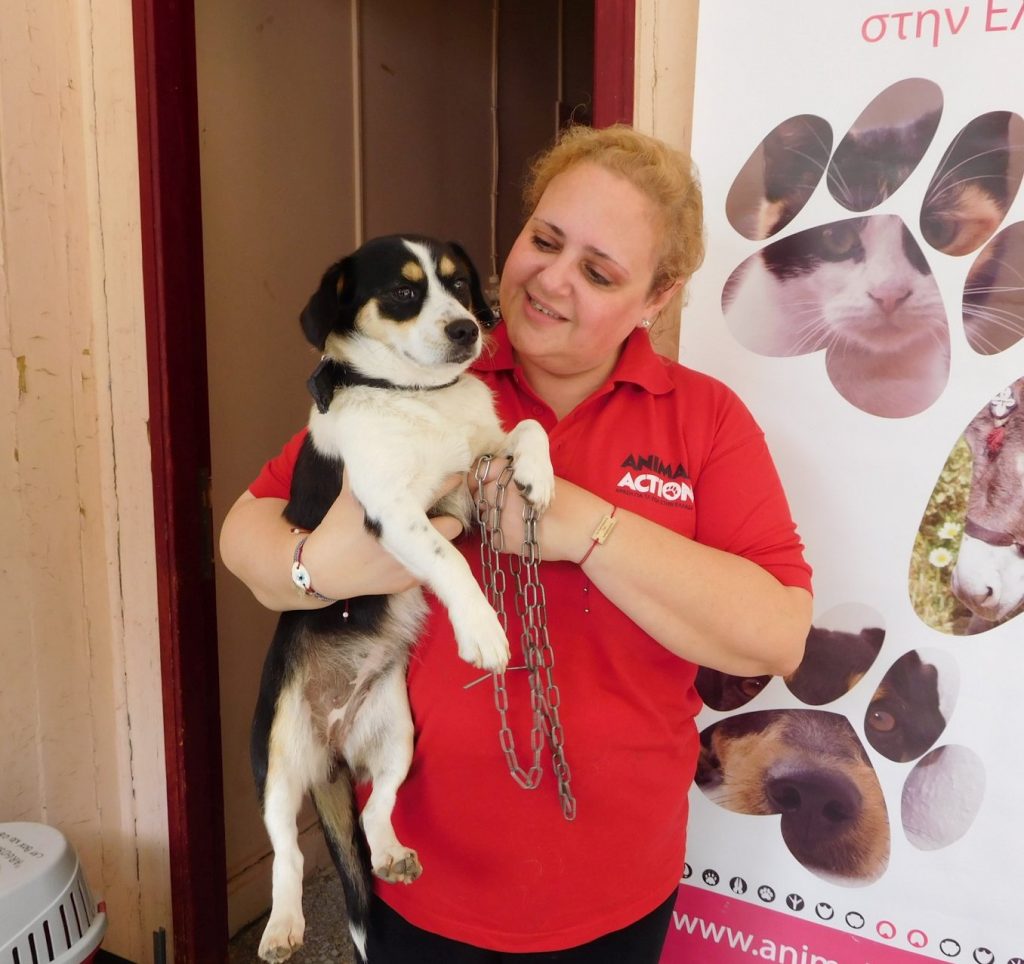 SERAFINA AVRAMIDOU (ANIMAL WELFARE MANAGER)
Serafina holds a BSc in Marketing Management from Deree College and a MBA in Marketing Communications from New York Institute of Technology.
After many years of professional experience in a multinational business environment she has decided to dedicate her life to what she loves most – helping animals. She has been a volunteer in the area of animal welfare for almost 20 years and has now oversees our animal welfare programmes.
She lives in Athens with her three rescue dogs – Claire, Masticha and Mickey who is also a Pet Therapy dog.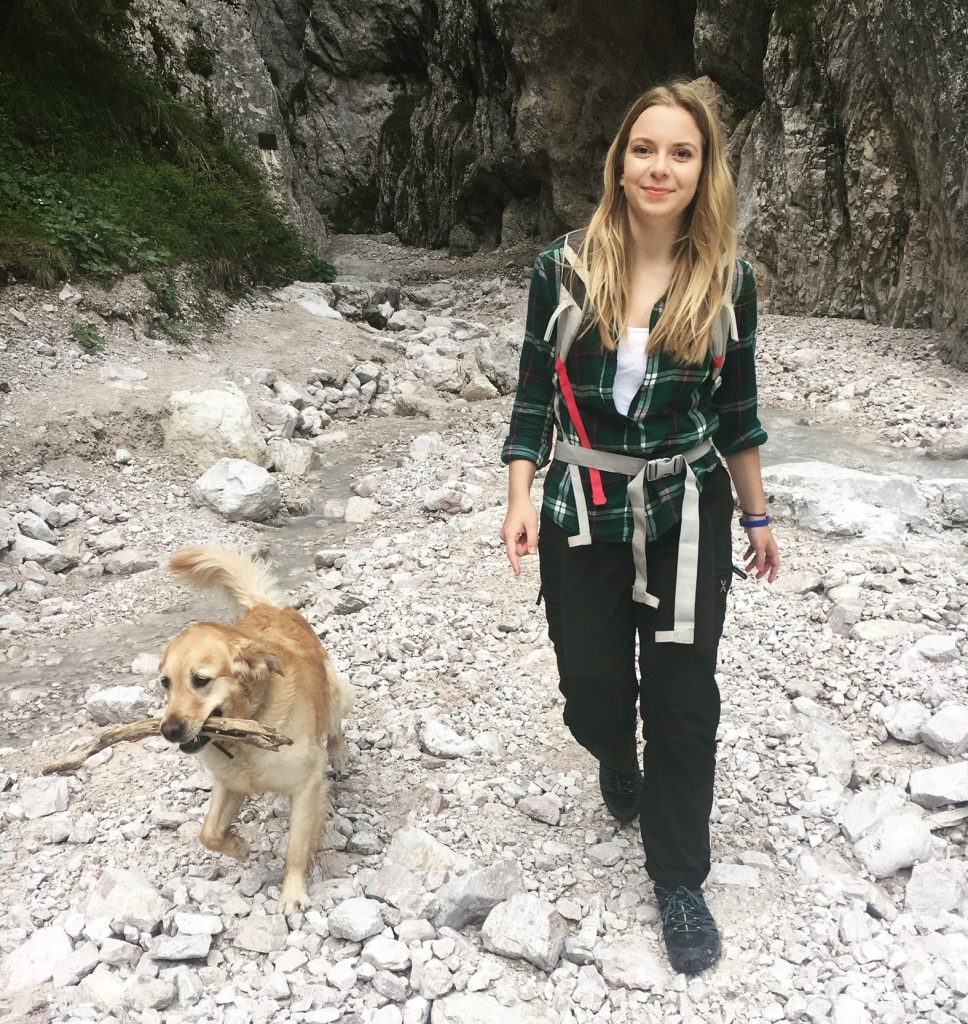 JADA DE MARCHI-TAYLOR (OFFICE MANAGER)
Jada joined Animal Action Greece in Summer 2018 and now takes care of the day to day running of the London office.
She is currently studying Medicine at King's College London. Her passion for animals began at the young age of 5 with her first pet goldfish, Goldie, and now she adores spending time with her family Golden Retriever, Ben.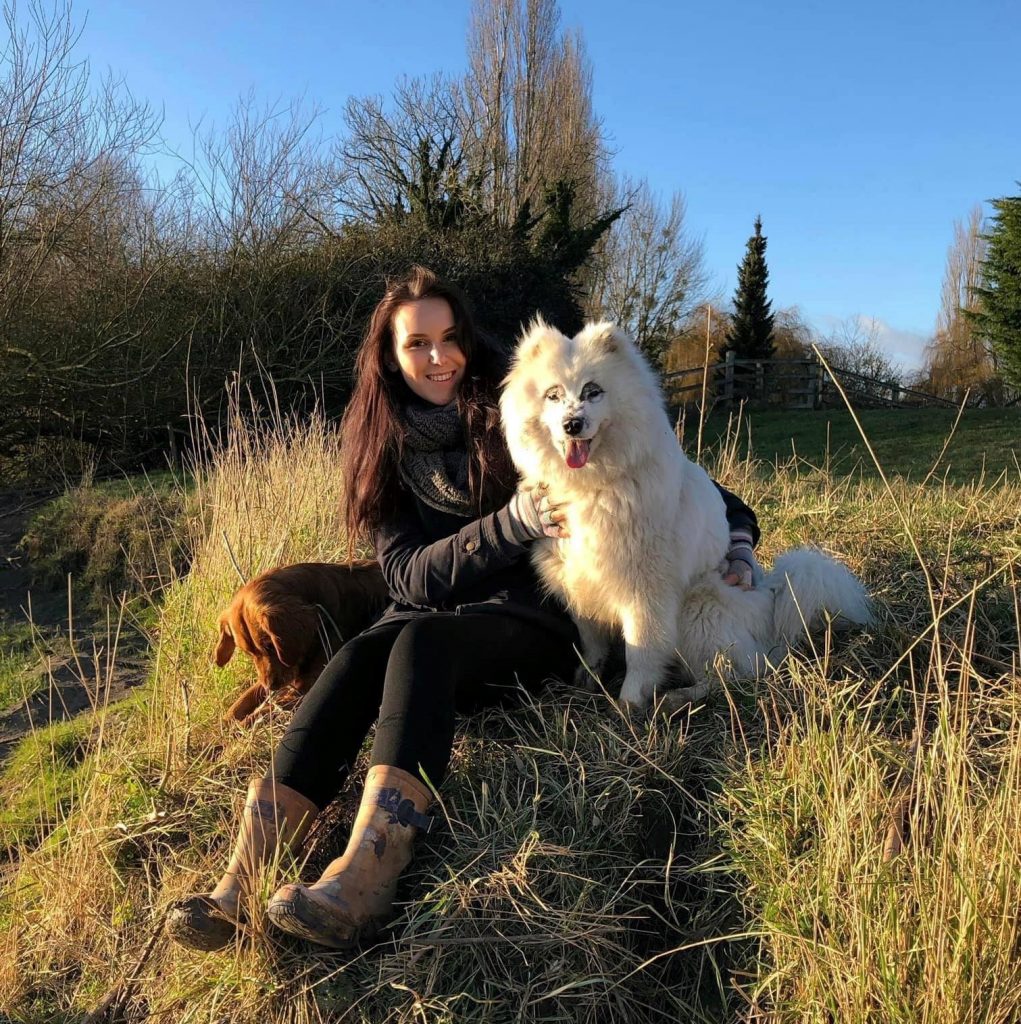 SKYE WARDLE (FUNDRAISING & COMMUNICATIONS OFFICER)
Skye graduated university in 2020 with a BSc (Hons) Animal Behaviour and Welfare.
She has spent time working and volunteering both in local shelters and internationally before joining Animal Action Greece. Since her family adopted four rescue dogs from the Chinese dog meat trade and a Turkish street dog, she has spent most of her free time rescuing animals and raising awareness of the importance of rescue. Skye is especially passionate about giving special needs and differently abled dogs and cats a chance at life, as her own rescue Samoyed is blind, and he enjoys a full and happy life!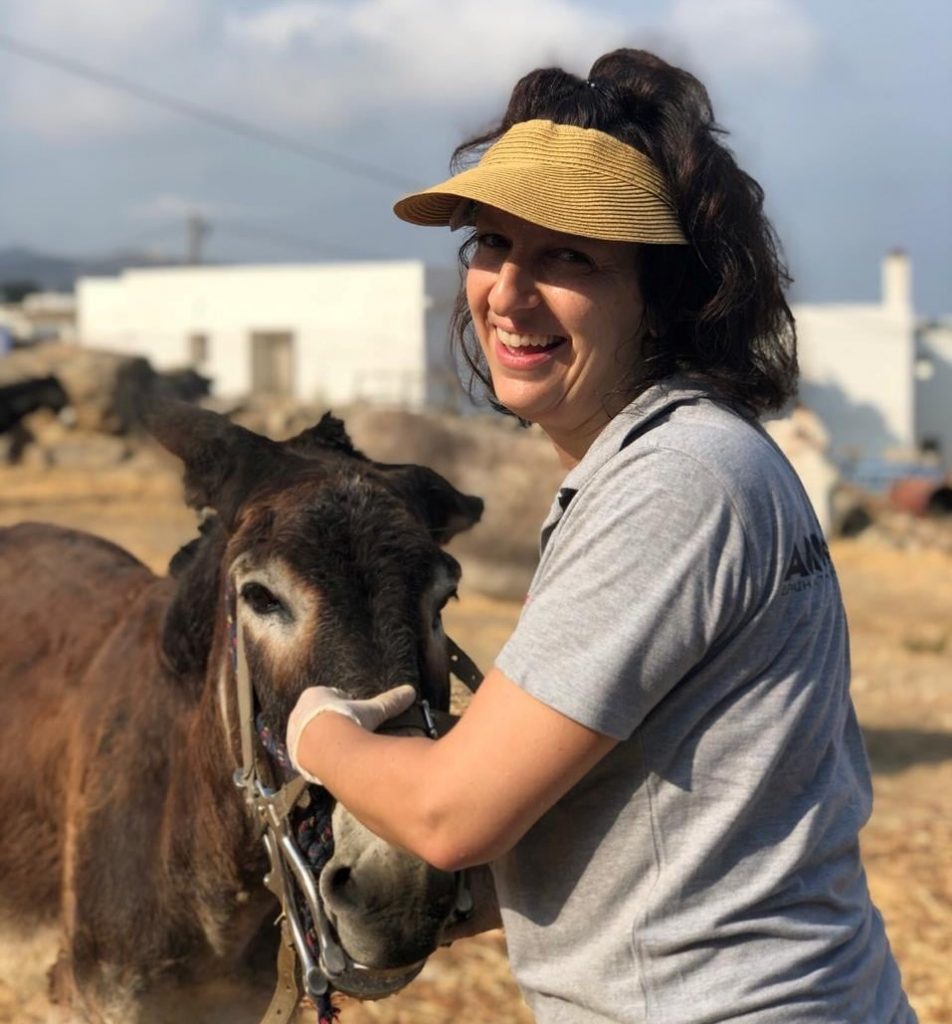 ELISA GESKOU (VETERINARIAN, DVM, MRCVS & EQUINE CARE PROGRAMME COORDINATOR)
Elisa Geskou is a veterinary surgeon ( DVM, MRCVS), with equine welfare being her focus area. She is the Equine Project Coordinator, as well as an Equine Team Leader.
Her relationship with Animal Action Greece began in 2003, not long after graduating from the University of Thessaloniki, when she applied for a scholarship in equine medicine. Her 12 year old half-local breed horse Floga suffered at that time from serious chronic laminitis and risk of being led to euthanasia when Elisa met Janet Eley, DVM and her recently set up UK Equine Project Team in her first outreach in Leros; it was the Team's veterinary and farriery expertise, in combination with Elisa's devotion, that saved Floga who had, since then, a healthy happy life free of pain until the age of 27.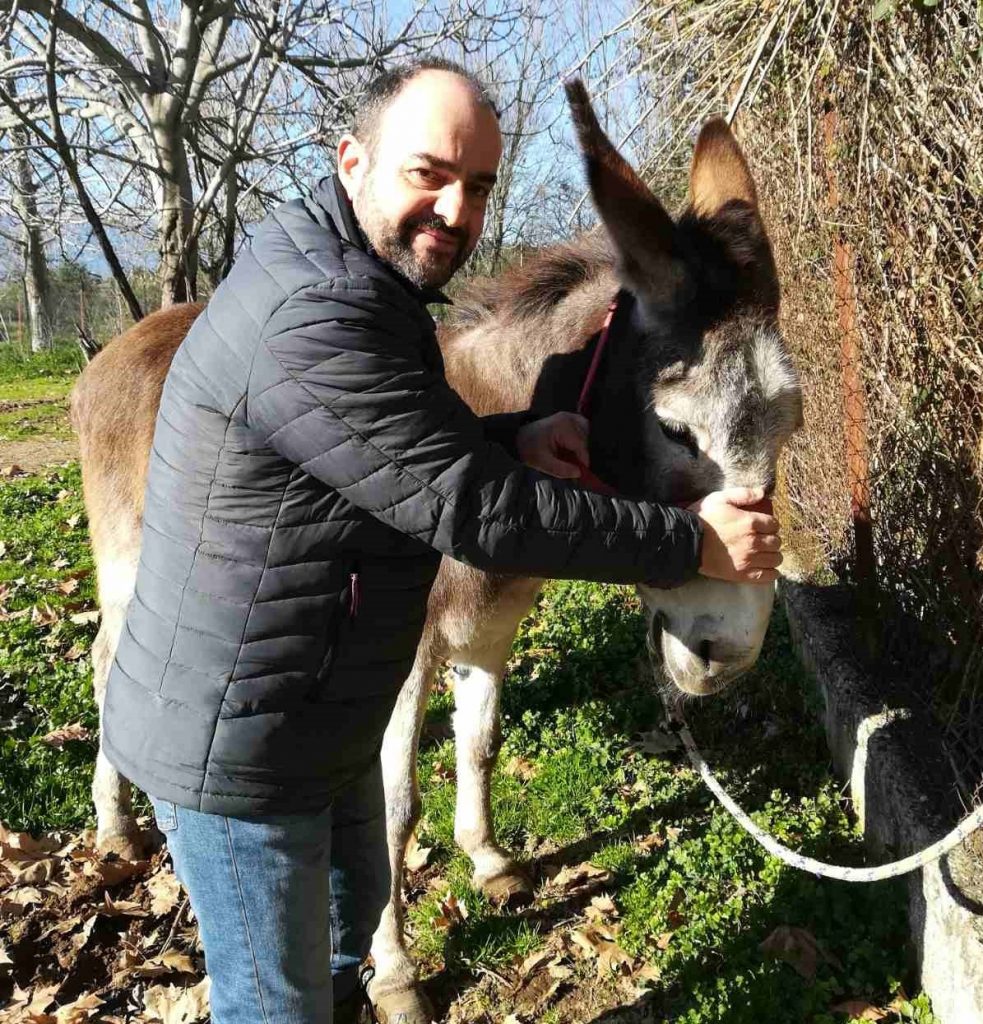 KOSTAS OKKAS (VETERINARY SURGEON, DVM)
Kostas is a veterinary surgeon with considerable experience in the equine field. Besides being one of our Equine Team Leaders, he has been working more than 15 years in the Stud Farm in Lazarina, therefore his speciality is equine obstetrics. He joined our Equine Team because of his interest in helping working equines in need.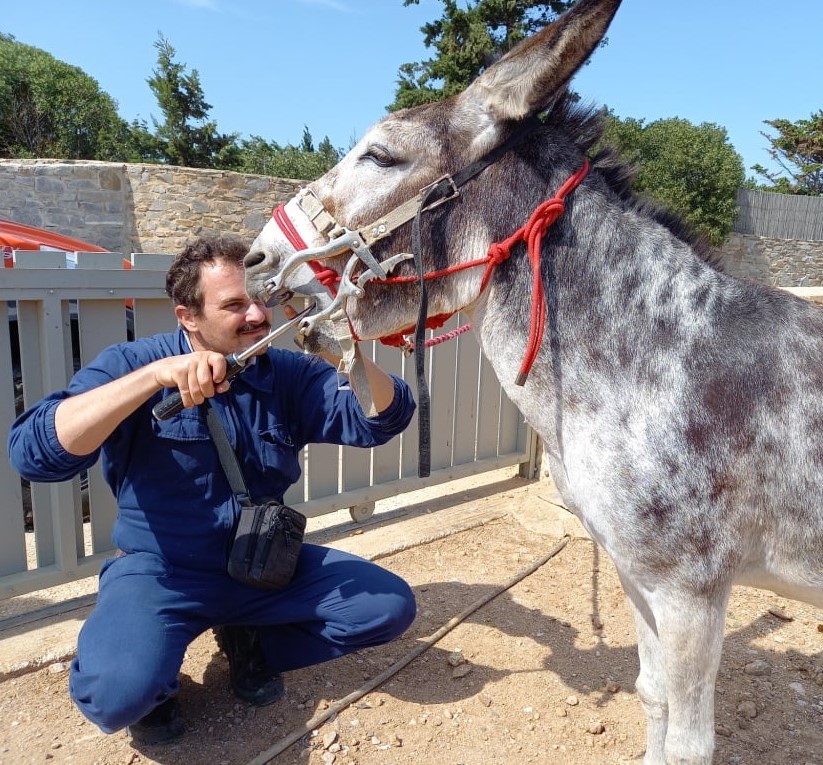 ALKIS GKESKOS (DENTAL TECHNICIAN)
Alkis is an Equine Dental Technician and a professional wildlife biologist (MSc, PhD) specialising in hoofed mammals. After having trained for two years supervised by a veterinary expert and equine dentist, he gained his EDT accreditation in 2016 via 'Garry Draper's Dental Training Throughout Europe course'. Since then, he has been a member of the Equine Care Team.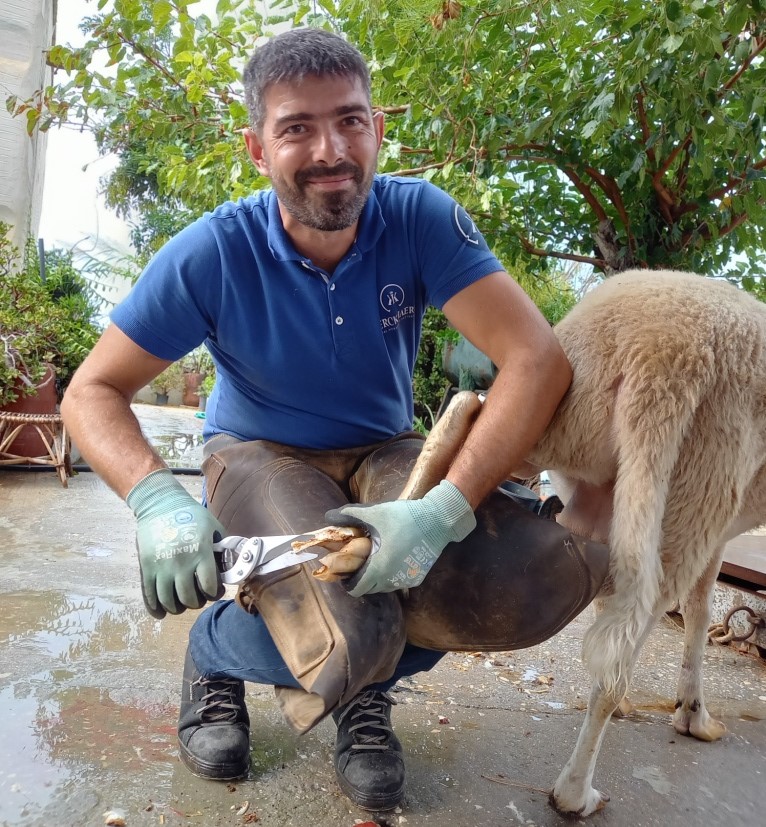 TASOS SKYLLAS (FARRIER)
Tasos has been a professional farrier for the last 10 years. In 2010 he went to Arizona to study in the American Horseshoeing school of Tucson. Since 2019 we have been working together and he is a member of our Team.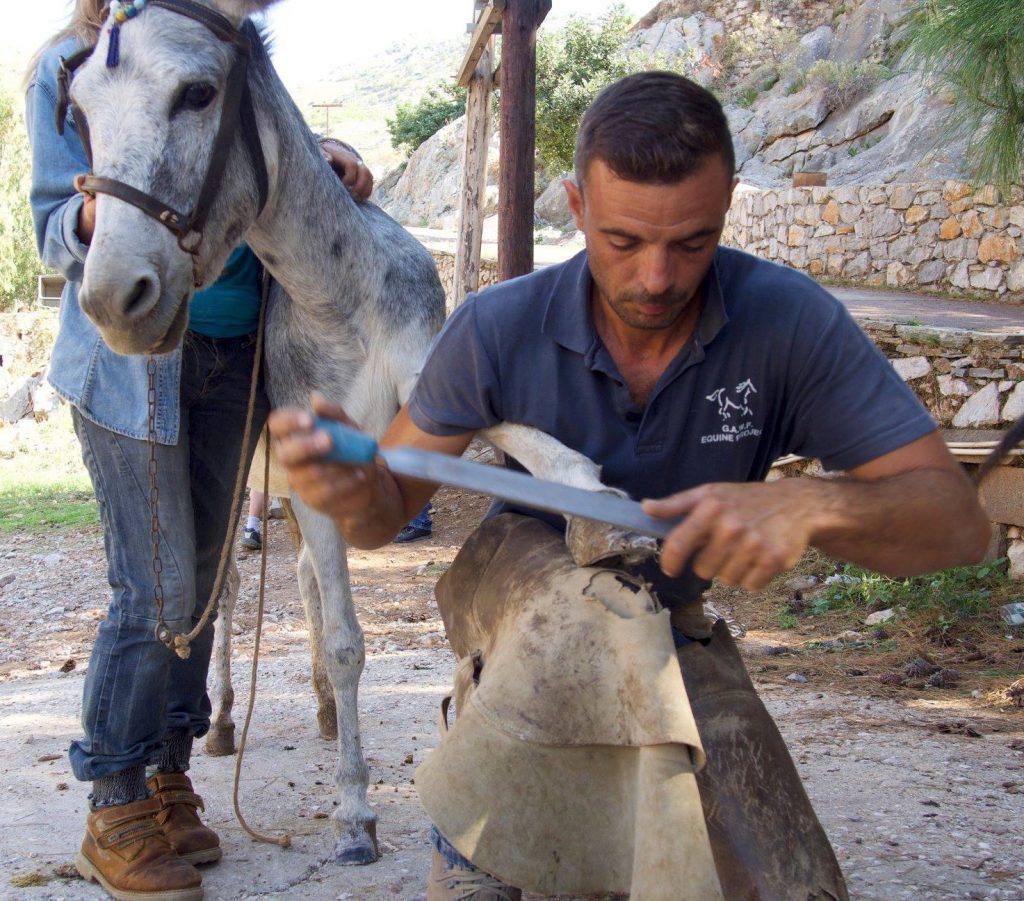 ARIS VLAHAKIS (FARRIER)
Aris was already a farrier when he met our equine team in 2007, during a training seminar in Crete. He has been our team's member since then, offering his farriery services to a great number of working equines. 
DOM MOSS (UK FARRIER)
Dom is a UK based farrier who joins our Equine Team's actions in specific cases, such as farriery seminars, when his expertise is needed.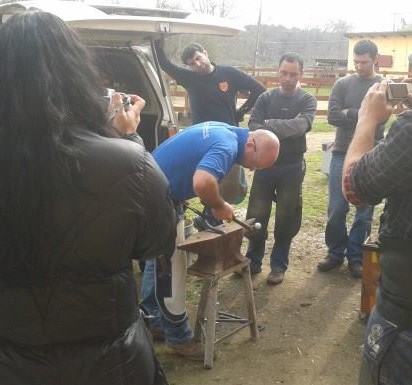 ALEX HALL (UK FARRIER)
Alex works predominantly as a Farrier in the UK, however he travels to Greece to join our team when his expertise is needed in specific cases.