Paul McGlone took up the position of Interim Chief Executive Officer of Animal Action Greece in March 2018.  He was delighted to have the opportunity to join one of our neutering outreach visits to Syros and this is his report:
The Island of Syros – 'We all live together'
The aim of the Animal Action Greece as a charity is to alleviate suffering and promote the welfare of animals in Greece. Through our Athens-based Animal Action Greece Hellas operations, our Neutering Outreach Programme has well-established approaches to achieving these aims.  Our 3-day visit to the island of Syros, capital of the Cyclades group, between the 16th and 18th of March, exemplified the way we promote the control and wellbeing of stray cat populations through neutering.
Syros, 144 km south-east of Athens and being an island of 32 square miles with approximately 21,500 inhabitants, has all the ingredients to be a beacon of hope for the future. In Syros there is a serious stray cat problem that affects the whole island.  There are many colonies that can change location without warning.  There is also evidence of animal cruelty and basic problems such as well-meaning feeding of cats with food scraps. But there is hope.
Animal Action Greece is working in partnership with local vets who with the Municipality of Syros and local welfare groups, run by volunteers, are all working together towards the shared aim of improving the welfare of stray cats, all year round.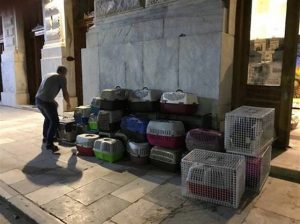 Syros Mass Cat Neutering Programme (3-day period, 16th to 18th March)
Organised by local vets, including the official municipality vet and support staff, the target set for the 3-day 'Mass Neutering Programme' was 180 cats, a significant number. This represents a major professional, logistical and administrative task, especially as there are no permanent premises or clinic to operate from. The 3-day programme involved the coordination of many activities:  trapping visits to cat colonies; preparations in the clinic; neutering procedures; 24-hour recovery (in covered cages to keep the cats calm) and finally release at the location of capture.  All this was done in temporary premises licensed as a 'veterinary clinic' by the  Stray Animal Protection Service of the Municipality of Syros, provided within the Town Hall.
Animal Action Greece has adapted its usual approach to neutering in the case of Syros as the island benefits from strong professional veterinary leadership, an established volunteer network, and a supportive local government officials, so the opportunity to make a real and long-term difference to the welfare of its cats has become a real possibility.  We provide financial assistance, established protocols for veterinary practices on neutering and lots of experience from our established Neutering Programme. This is coordinated by our Neutering Officer, Serafina Avramidou, who was there with me to provide guidance and support.  A volunteer, Konstantinos, came along too, to make a video record of the visit.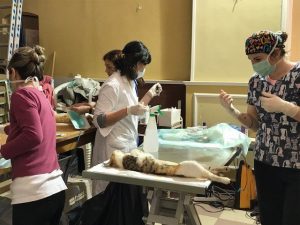 The new approach to Neutering and welfare on the island owes much the leadership of Dr. Manolis Vorissis, Scientific Consultant to the Veterinary Clinic of Syros. Manolis is an inspiring veterinary surgeon with a clear vision for the future and a steely professional approach to addressing the underlying issues of both the number of feral cats and their welfare. But it doesn't stop there.
He also shows a determined belief in bluntly challenging the attitudes and behaviours of fellow island residents. By constructing local 'cat feeding stations' that he calls 'Cat Cafes', the strays can be assimilated into daily community life. This works not only for the welfare of the animals but also helps communicate the message to residents that they, too, need to take some responsibility for looking after local animals.
The Mass Neutering Programme would not work without the commitment of local vets like Manolis, but also essential is a well-established network of local volunteers, which on Syros includes the inspirational Jacky Storey who runs 'Help Syros Cats' (www.helpsyroscats.com) as well as a Cat Shelter and Rehoming Programme from her home in Kini, a village on the other side of the island.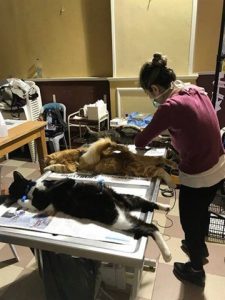 Jacky and many of her friends are volunteers who work every day to help the cats of Syros. They also worked with few resources and for long hours over the 3 days of our 'Mass Neutering Programme' to support the veterinary team in managing the comings and goings of 180 cats.  The volunteers have a pressing need for purpose made traps and cages.  These help in the management of the cats and minimise the inevitable stress they suffer throughout the different phases of the roughly 24 hours of their captivity.  Without appropriate equipment and resources, it was no surprise to find that there were a few 'escapees' and also that some wounds were inflicted on team members by feral cats not keen on the prospect of being neutered!
It's all about changing attitudes and behaviours
We need to help change attitudes and behaviours towards animals in general, otherwise neutering programmes have limited impact on the control of the population of stray animals. The ambition and strategy needs to combine informing and educating people about animal welfare with the provision of neutering programmes. Combined, these can play a key role in managing the stray animal population and in addressing its underlying health on release.  What is going on in Syros is really encouraging and exciting for the future.
Cat cafes – 'We all live together'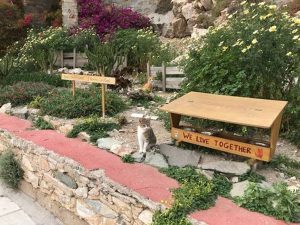 More radically, the vision on Syros is underpinned with a professional and scientific approach aimed at both controlling and gradually reducing the cat population. In the longer term, the plan involves providing regular weekly neutering programmes that address the health and welfare of the animals. This has to be followed up with an outcome for stray cats where it is possible to educate people to live alongside stray animals.
'Cat Cafes' are the idea of Manolis Vorissis. The message 'We all live together' aims to show Syros residents that it is possible to live alongside stray cats, but equally look after them properly! A number of 'Cat Cafes' have been established and more are planned, all on abandoned or unkept strips of land where people have habitually been leaving food scraps for the cats.
With some minimal landscaping and the installation of some simple but well-designed food and water stations, plus discreetly hidden sand pits that can be used as cat toilets, what has mostly been an eyesore can be transformed into a cared-for space that doesn't attract vermin to uneaten food or create a health hazard as it rots.  Attitudes and behaviours are changing, and spaces for cats to live and feed within the community are being adopted by residents. The important innovation is to supply dry cat food and show local residents that feeding at particular times and in well-judged quantities overcomes many of their legitimate complaints and concerns.
The way forward for the future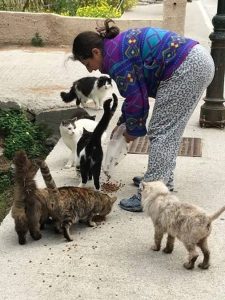 Ultimately, the vision is to set up a dedicated community clinic, providing neutering programmes and other veterinary care on a permanent basis. This needs to include a scheme to provide subsidised neutering and care for those local residents who cannot afford to access veterinary services at a commercial rate.
If the local Municipal authority can license the scheme and funding achieved to start the project can be found, the ambition is to staff the clinic by at least part-time vets, veterinary nurses, and an administrator. What is lacking now are data maps that help track cat colonies to estimate the island's overall cat population as a baseline against which progress can be measured.  Also needed is some professional rigor with record keeping and photographic evidence of all stray animals trapped, neutered or treated, to allow tracking of the population and its welfare.
Based on research done in the USA, Dr. Manolis Vorissis suggests that to effectively control a population of stray cats, the aim has to be to neuter 80% of them. Equally important is to ensure both sexes are neutered proportionally, which could reduce the stray population to a controllable number. The new clinic with regular, consistent outreach work to neuter stray cats could achieve this objective. The alternative is to do nothing and face the inevitable consequences of overpopulation which for the cats include: seasonal starvation, abuse, untreated disease, repeated pregnancies, male aggression, and fights.  For the human community large numbers of hungry and unhealthy strays cause the animals to be seen as vermin and instances of abuse, deliberate poisoning and other forms of persecution rise.  Animal Action Greece and Dr. Vorissis believe that with local people cooperating and the support of the municipality a new clinic can become a reality.
Such an ambitious vision and project might be judged to be unrealistic, but the island of Syros has sufficient people with the right level of commitment to make it happen.  With the right level of funding, there is real hope for the future welfare of cats on the island of Syros.
If you can help us deliver this vision with the people of Syros, please consider donating to Animal Action Greece!
Paul McGlone
Interim Chief Executive Officer
Animal Action Greece