While COVID-19 is still restricting our movements, it's not the only thing that our Equine Team has to contend with; sometimes the weather simply isn't on our side and, despite the best laid plans, the team struggles to reach the equidae (horses, donkeys and mules) that need its care.
A blast of polar conditions forced us to postpone our scheduled visit to Mount Pelion and the Chalkidiki peninsula. Wisely, the muleteers whose teams work the mountain slopes in the logging business, kept their animals stabled, waiting for the thaw. Even so, most of the working animals are kept in remote places that are difficult to access, and in the icy weather we simply couldn't get to them. However, one owner had moved his team to an area of forest not far from the city of Volos, which is close to the western slopes of the mountain, and we were able to reach it there.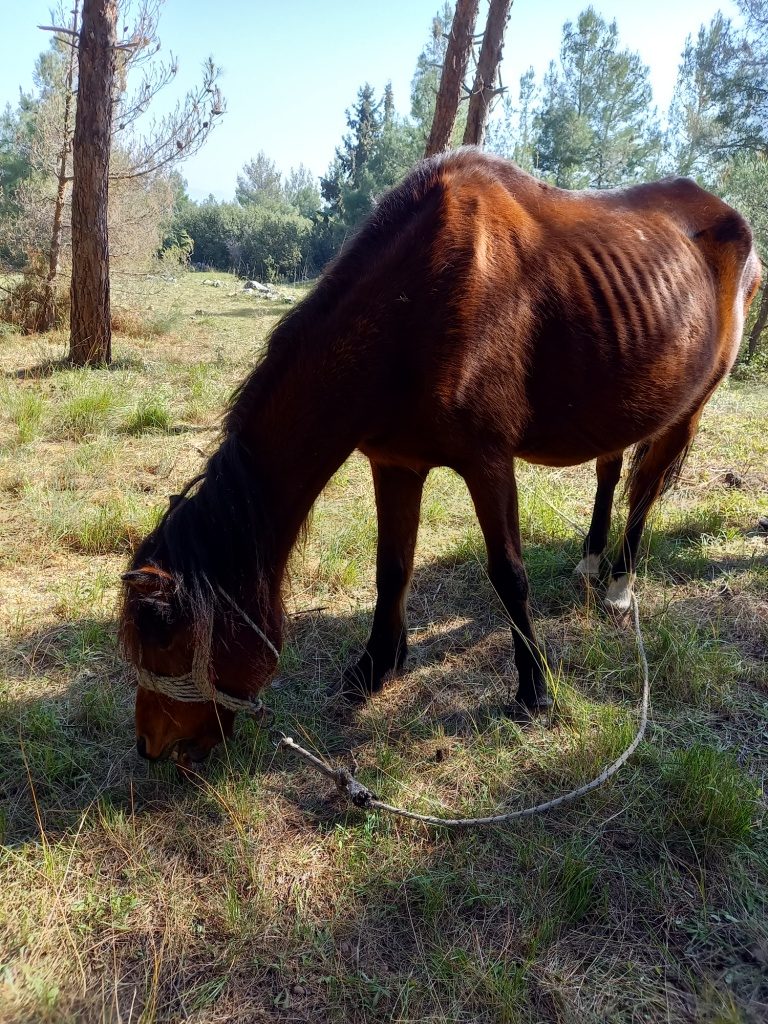 Our vet, Elisa, examined all the animals, and gave detailed advice on the nutrition of a two-year-old horse that was in really poor condition, with a score of only 1.5, and badly needed to build up its strength. ("Condition Scores" are between 1 and 5, where 5 is obese). We also saw an old mule, who had reached the ripe old age of 25. It was heartening to see the owner determined to go on caring for his 'elderly lady' who is no longer fit to work but whose years of labour he is now rewarding with a dignified retirement.
Our EDT (Equine Dental Technician), Alkis, made dental checks and treated any animal that needed it. An eight-year-old gelding, that had never been seen by an EDT before, had two big 'hooks' on his first premolars that would soon have been preventing his jaw from moving properly if Alkis had not got to work with his rasp and filed them down.
Our farrier, Tasos, trimmed all the overlong hooves he found and, together with Elisa, took the opportunity to raise the issue of the 'plate'-style shoes being used. Unfortunately, most owners in Greece whose animals work in the forestry trade are still using these, and it is something that we are trying to change. Because completely covering the underside of the foot, sealing in moisture and trapping dirt, causes problems. Tasos explained the plate shoe's disadvantages and recommended fitting an open shoe adapted for working in the forest. Before these equidae go out to work, Tasos hopes to shoe one of them with an open shoe so that the owner can judge the benefits for himself.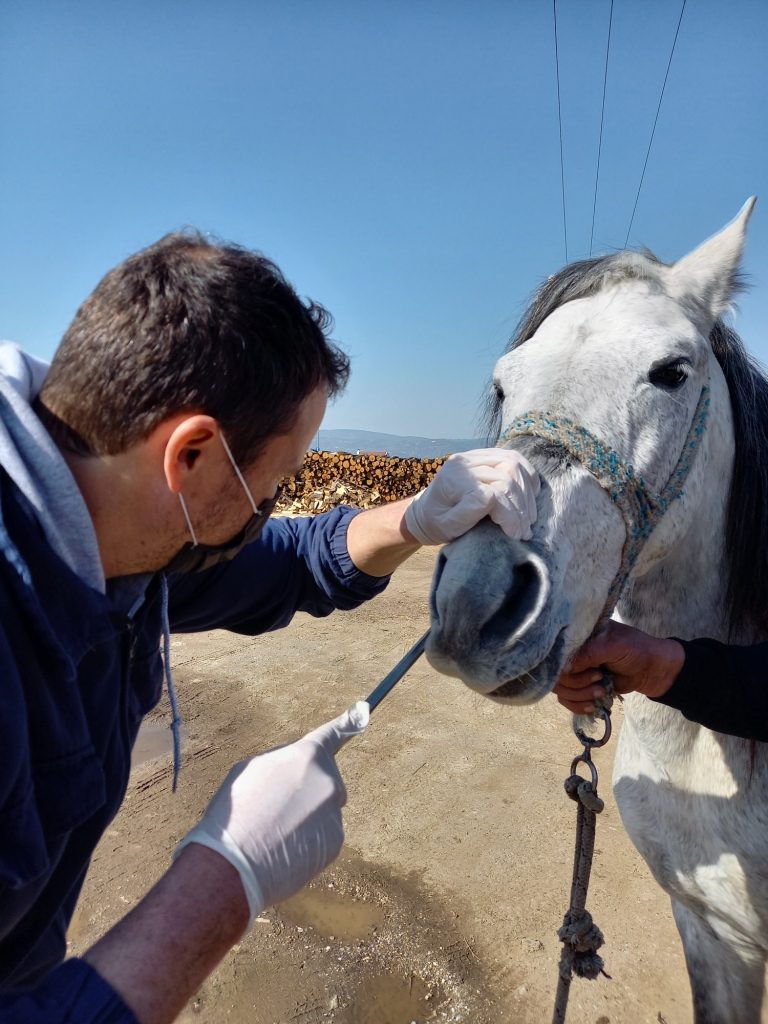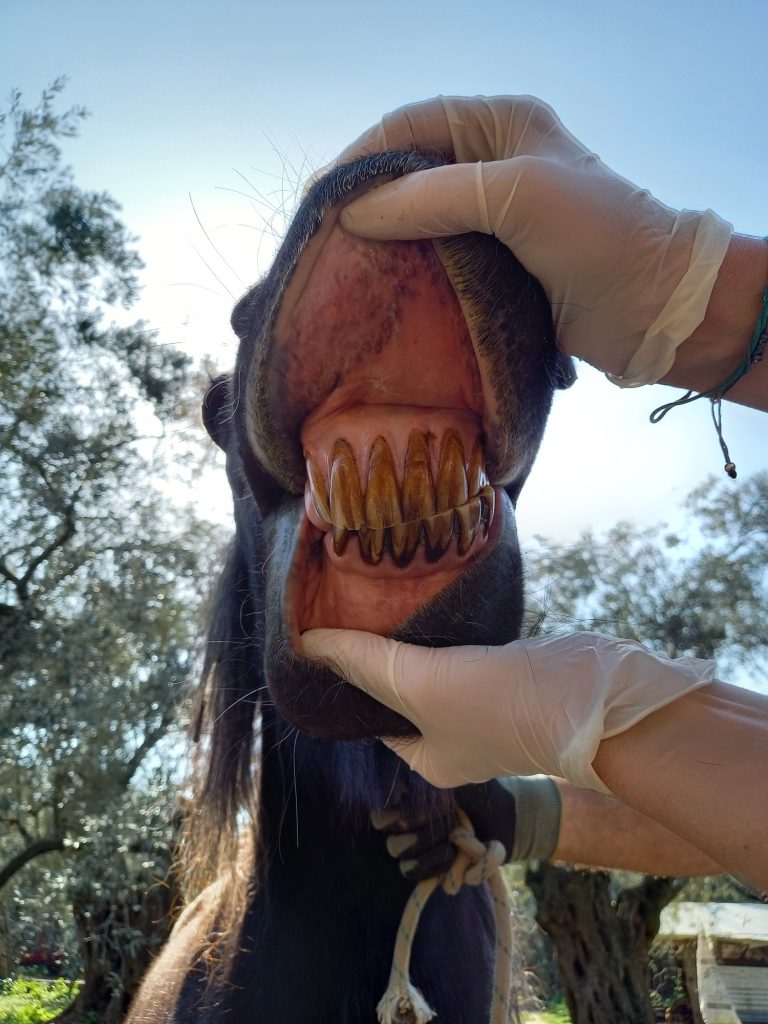 How happy we are when we can witness the results of a successful rescue! When we were last in the area, we heard about a horse that was in dreadful condition… literally skin and bone. At that time the animal's ownership was unclear and we were not able to see it. But now, eight months later, we had before us newly named "Rigas", a shiny-coated, healthy, thirty-year-old horse that is even becoming tubbier than is good for him! His rich diet had initially acted to restore him but now, unless it is adjusted, it could soon be threatening him with laminitis. So, along with many expressions of genuine admiration and much praise for the transformation, the necessary nutritional advice was given. Alkis checked Rigas' mouth and found a high level of wear to his teeth – not unexpected in an animal of Rigas' age. Working together with Elisa, two causes of painful tongue ulcers were dealt with: Alkis filed away all the sharp edges and Elisa extracted a small, sharp fragment of tooth, making Rigas mouth comfortable again. Tasos rounded off the team's care with a trim of Rigas' slightly overgrown hooves. We salute the many people who step in to rescue and care for neglected animals like Rigas. They are the unsung heroes of animal welfare and shining examples of compassion.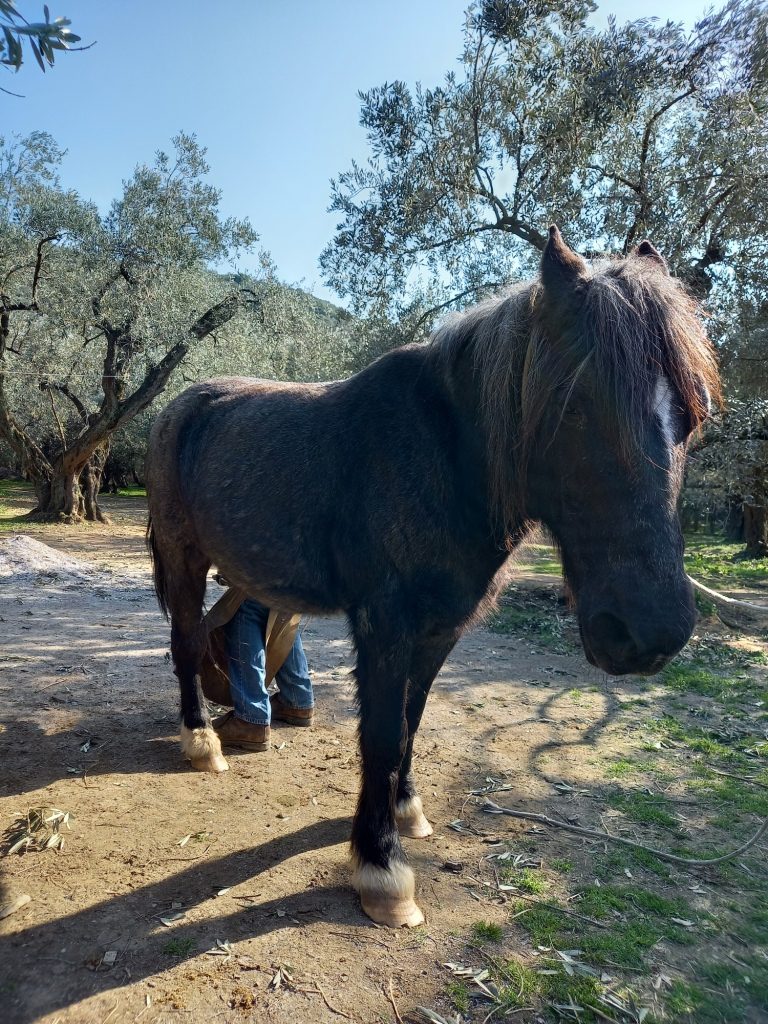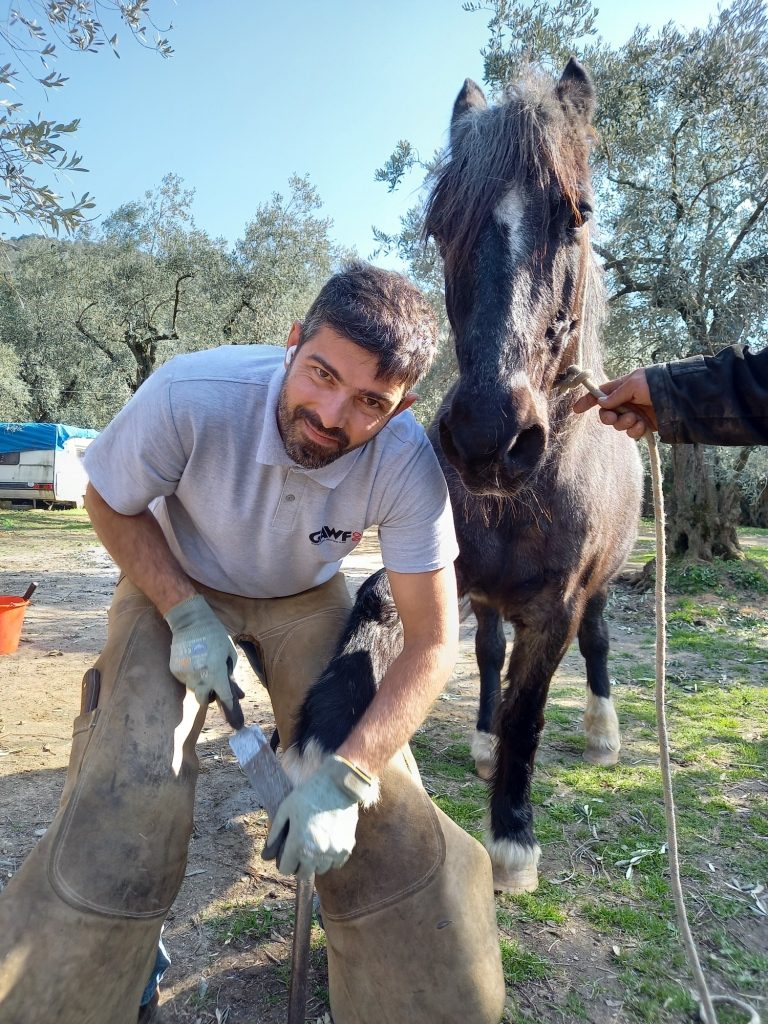 Although treating just 10 equidae in an outreach is a low number compared to both our team's usual 'strike rate' and our original plan, it was a satisfying and successful visit, as we know we made a difference to the quality of life of some of these working animals. We plan to return to Mount Pelion before the Summer, when the weather will be kinder, and, we hope, the COVID-19 situation will have improved.
You can read more about our Equine Programme HERE and you can support the programme with a donation HERE.