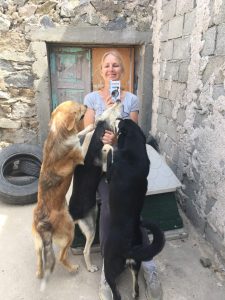 In this period during which we're all so restricted in our movements, we haven't let up on our work; we're just adapting and doing some things a little differently.
For many years part of our strategy has been to offer support to carefully selected local welfare groups that we know are caring effectively for stray companion animals. Now, during the lockdown, it's the best way for us to go on reaching the animals that need our help. So, when the Naxos Animal Welfare Society sent out a plea for anti-parasite medications for both cats and dogs, we knew it was an opportunity to keep improving animals' lives on the island, even though our teams can't be there in person.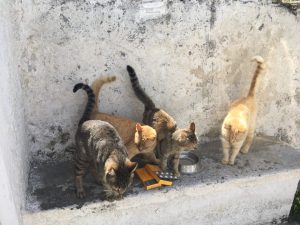 Maria, Matina, Tatiana, and Kim are among the volunteers that run a small shelter and race about all over Naxos where they maintain 20 cat feeding stations. It's hard to catch Maria on the phone. If she picks up at all it's usually to quickly yell "I'm driving, I'll call you back!" because she's on her way to a feeding station or to go and deliver an animal that needs to be fostered for a few days. The group was overjoyed to receive medication from Animal Action Greece/Animal Action Greece, which we sent a few days ago. Maria shared some images that show just how much love and affection its members give the animals… and how much they get back in return!
Healthy, well-fed street animals are tolerated and even regarded with affection in small communities in Greece. It makes them much less likely to be poisoned or abused. They also have a much greater chance of being adopted. That's why anti-parasite treatment is a LIFESAVER!
If you can, please help us to go helping the carers as they face the enormous additional pressure the COVID crisis is putting on them and the animals they are rescuing from neglect, disease, and starvation.
Thank you for caring, and for everything you do.