Our Equine Care team returned to Crete to visit our partners, Agia Marina Donkey Rescue, on 27th and 28th April.
Aris the farrier and Alkis the equine dental technician treated a total of 7 geldings and 23 female donkeys, ranging from 4 to approximately 40 years old! Thanks to daily attention from their loving carers and annual dental check ups, the donkeys are all in good health and their teeth in good condition, considering the age of some of the most elderly donkeys! Alkis provided routine annual floating to prevent sharp edges and hooks, and most of the residents required some hoof trimming from Aris. One donkey was found to be suffering with a hoof abscess which had caused lameness, and another suffering with laminitis. Our equine vet, Elisa, gave veterinary advice via the telephone for both short term and long term care of the individuals.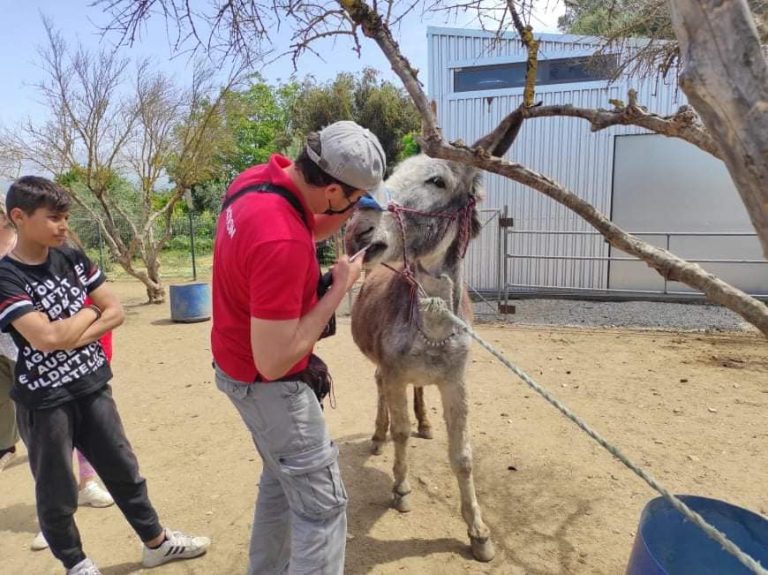 It was very satisfying to see that a donkey called Nefeli, who was treated with great difficulty last year, is now in a notably improved condition. Before treatment, Nefeli suffered from two severe ulcers caused by very sharp back teeth piercing deeply into her mouth. This year she was in a much better condition and no longer in pain.
Fanis and Barbara from Agia Marina Donkey Rescue, together with their friend, Marina, also arranged for the team to visit another two donkeys in their region. A female donkey kept at the monastery of Kaliviani where nun Sevasti takes good care of her, as well as a very old male donkey and elderly stallion horse. All 3 were in good condition and received dental and farriery treatments.
Thank you very much to the wonderful carers of the donkeys at Agia Marina, who are, as always, excellent hosts and prepared a great meal for the team using their garden's fresh vegetables! We hope to see them again next year and offer our services to their lovely donkeys.