The results are finally in, and we are optimistic to see that more than 100 candidates who pledged to act for animals have been elected to the new European Parliament, with representation across the political groups and across the EU.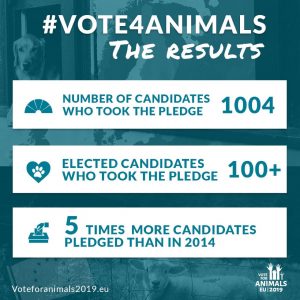 Of the candidates who took the animal welfare pledges in our VoteforAnimals2019 campaign – their public commitment to animal welfare for the next EU parliamentary term – around one in ten have been elected. In the next few days we will make available a full list of the signatories whose candidacy was successful. 
We'd like to thank each and every one of the 1004 candidates who, since the campaign's launch in February, showed their support for a higher commitment to animal welfare during the new political term. With the help of our Member Organisations, who encouraged their candidates in their own countries to take part, the campaign achieved five times more pledges than in the last European election. With clear results like these, the Commission has no excuse not to embrace animal welfare as a priority in its 2019-2023 work programme.
"Recent years have seen strong support for animal welfare from both the European Parliament and public opinion, although meaningful European actions to better protect animals have not been forthcoming," says Reineke Hameleers, Director at Eurogroup for Animals. "We call on this new European Parliament to live up to their commitment to citizens and animals and urge the new Commission to prioritise animal welfare and break the legislative stalemate we have been facing." 
We – and Europe's animals – have waited too long for the replacement of the transport of live animals with the trade of meat and carcasses, a phase-out of the use of all cages for farmed animals, a revision of the Broiler Directive, positive changes to the Common Agricultural Policy, and stunning prior to slaughter. 
For wildlife, an EU-wide positive list of exotic pets determining which animals can be traded and kept is urgently needed. So are total bans on the use of wild animals in circuses and on and fur farming, and the development and implementation of effective non-lethal solutions for the coexistence with large carnivores and the management of invasive alien species. 
Pets badly need identification and traceability systems, not only to ensure good welfare and health but also to tackle booming illegal trade all over Europe. The 12 million laboratory animals used each year in Europe desperately need a concrete EU strategy to phase out their use in research, testing and education. Equines need proper care whatever their role, whether they are used for recreation, in sports, on farm, for therapy or for tourism. 
To make change happen, MEPs can join the EP Intergroup on the Welfare and Conservation of Animals. The second oldest of the EP's 28 Intergroups, it is a cross-party forum and effective driver in promoting initiatives that have frequently led to concrete improvements in EU animal welfare-related policy making. About 70 of the newly elected MEPs have already committed to joining, of which around 50 were already members during the previous political term. This means that this new Parliament – the ninth – already kicks off with a strong and united group of animal welfare-friendly MEPs gearing up to make a difference for animals. 
— ENDS — 
Eurogroup for Animals represents 65 animal advocacy organisations in 26 EU Member States, Switzerland, Serbia, Norway, Australia and the USA. Since its inception in 1980, the organisation has succeeded in encouraging the EU to adopt higher legal standards for animal protection. Eurogroup for Animals reflects public opinion through its membership organisations' affiliations across the Union, and has both the scientific and technical expertise to provide authoritative advice on issues relating to animal welfare. 
For more information, please visit www.eurogroupforanimals.org. Follow us on Twitter @Act4AnimalsEU and like us on Facebook. 
Contact: Vienna Leigh, Senior Communications Officer, v.leigh@eurogroupforanimals.org 
Tel: +32 (0)2 207 7715