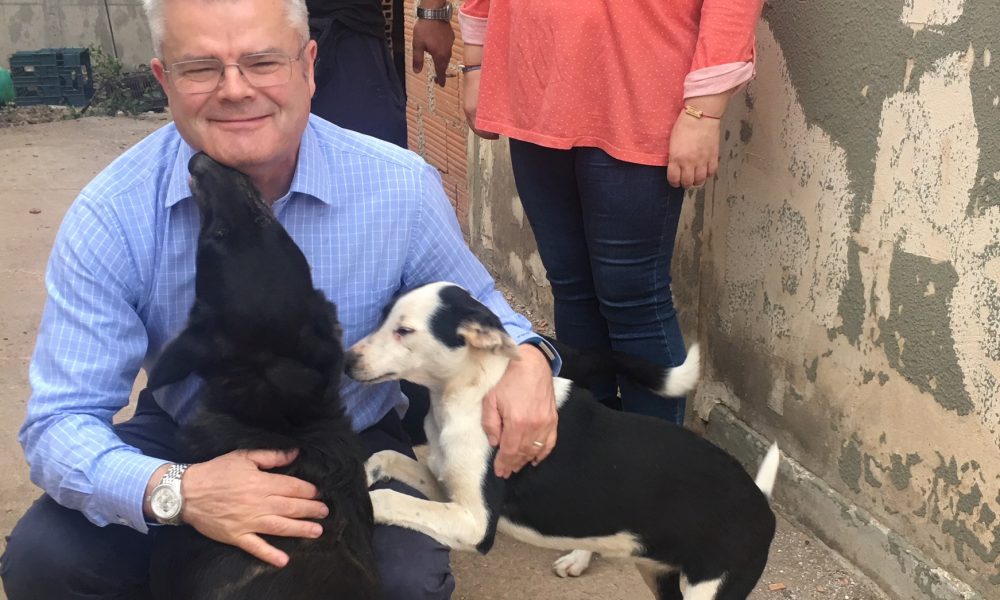 "We only want to give the dogs a chance of a good life", said Alex, one of the Leaders of a small group of Athens volunteers that run 'The Ghost dogs of Aspropyrgos' https://www.facebook.com/GhostDogsOfAspropyrgos/). This is his farewell message to me as I depart his company on Thursday, 17th May, having spent 4 hours with him driving around the Aspropyrgos, West Attica area of Athens. Down to earth, manic, charismatic, a crazy driver, Alex's heart and soul is committed to helping the abandoned 'ghost' dogs of Aspropyrgos.  Alex is the human antidote to this darker side of animal welfare concerns in Greece, and Athens in particular. It's hard to know how to describe what is going on in this huge area in the foothills of outer Athens, a highly industrialised and polluted area of hundreds of square kilometres with some parts sparsely populated by humans but full of derelict and abandoned factory sites and strange-looking military bunkers, mixed in with active industrial sites. Most of these have high security compounds with packs of dogs inside acting as guard dogs, in a kind of 'sub plot' to the Aspropyrgos story that raises welfare issues of its own.
Struggling to survive in this huge, barren area with its lunar landscape are an estimated 3,000 to 5,000 abandoned dogs.  Alex says it's only a 'best guess' number, as there is no official recognition of what is going on here, no organised programme by NGOs to quantify the extent of the problem, and certainly no City of Aspropyrgos Municipal Government support to address the animal welfare concerns.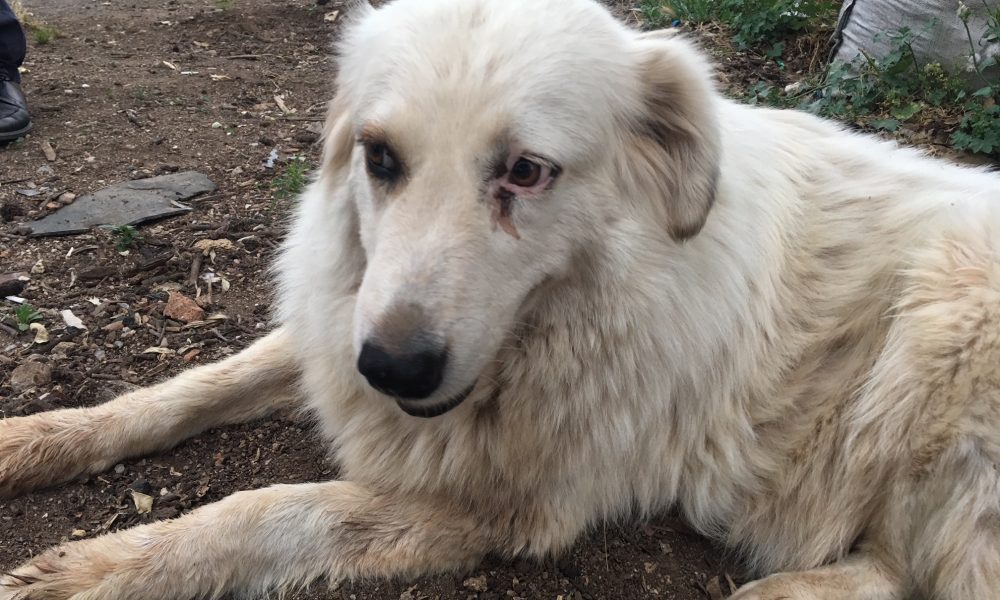 The shocking truth is Aspropyrgos is where Athens residents take unwanted dogs and dump them. It seems this has been happening for years. Because this area is so sparsely populated, there is less of a chance of being caught in the act, so it's easy to drive up into the foothills of Attica and dump a dog, and it just keeps happening.
There is no good side to this story, other than for the lucky few dogs who get 'adopted' through The Ghost Dogs 'virtual' Facebook-based organisation. The achievement of this committed group has been amazing in that respect:  Alex and his fellow volunteers have created an international network of supporters – both individuals and organisations – who have arranged a few thousand adoptions of abandoned dogs over the past 5 years in various European countries, some of them in Great Britain.  But this is only a small part of what the volunteers do.
What I witnessed in Aspropyrgos forced me to acknowledge 'a dog's life' really can have no meaning and, even worse, I saw the consequences of animal cruelty of the worst kind. This cruelty goes unchallenged and along with the abandonment, starvation, and ill health suffered by these unfortunate dogs, it conveys a sense of complete hopelessness for the future of this overlooked canine population.  At least it would, were it not for Alex and his group.
What is needed, of course, is a local solution and changed attitudes towards animals in general. Animal Action Greece helps to support 'The Ghost dogs of Aspropyrgos'.  Since the group works with a number of supportive vets who offer their professional services, such as neutering, at a highly subsidised price, Animal Action Greece pays for an agreed number of those surgeries each year.  Cases are selected by the group's volunteers on the basis of an individual animal's circumstances or when a 'pack' has formed, as neutering can assist population control.  In addition, we periodically provide basic but essential veterinary supplies and medications, as the need arises, and are part of a widening support network around the 'Ghost Dogs' volunteer endeavour at Aspropyrgos.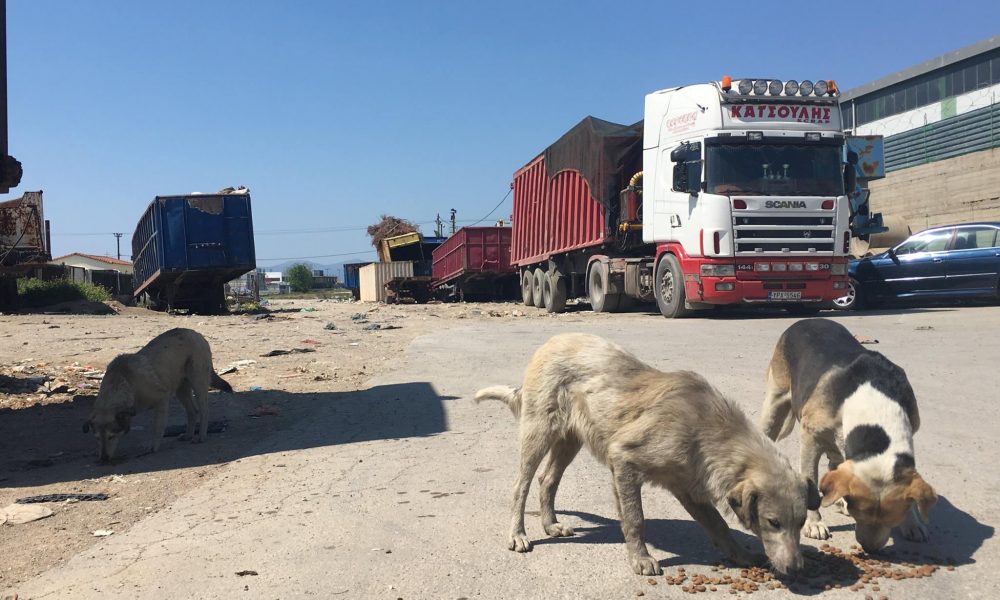 We saw dozens of examples of particular localities with packs of abandoned dogs but Alex took us to some derelict buildings where a makeshift 'compound' had been created to provide a simple solution to protect just one, small pack.  Hidden in the recesses of a large, derelict building open to the elements, was a badly injured dog who had had both hind legs broken – clearly through an act of human cruelty.  Luckily, it had been spotted and operated on, and the volunteers had placed it with three six-month-old puppies that had become separated from their mother.  All four dogs would have been highly vulnerable had they not been captured and protected.  No one thinks this is an ideal environment for them but all four dogs have been fed and watered in this makeshift compound, with a rota of volunteers visiting them every other day. Their future remains uncertain.
This is where it gets hard to talk about.  Mankind's relationship with dogs goes back 10,000 years, and their genetic craving for human interaction and their ability to respond to the smallest encouragement has never ceased to build on that bond, no matter what deprivations they have inflicted upon them or level of suffering they endure. When we entered the compound, to the anticipated chorus of barking, we were met with a pack of shy and wary dogs, but it didn't take long before we had the adult male, followed by 3 bouncy puppies, jumping all over us with their wet tongues and wagging tails!  All companion animals want some human affection. And these are only getting it for a few minutes, sporadically throughout the week.  We left them with heavy hearts.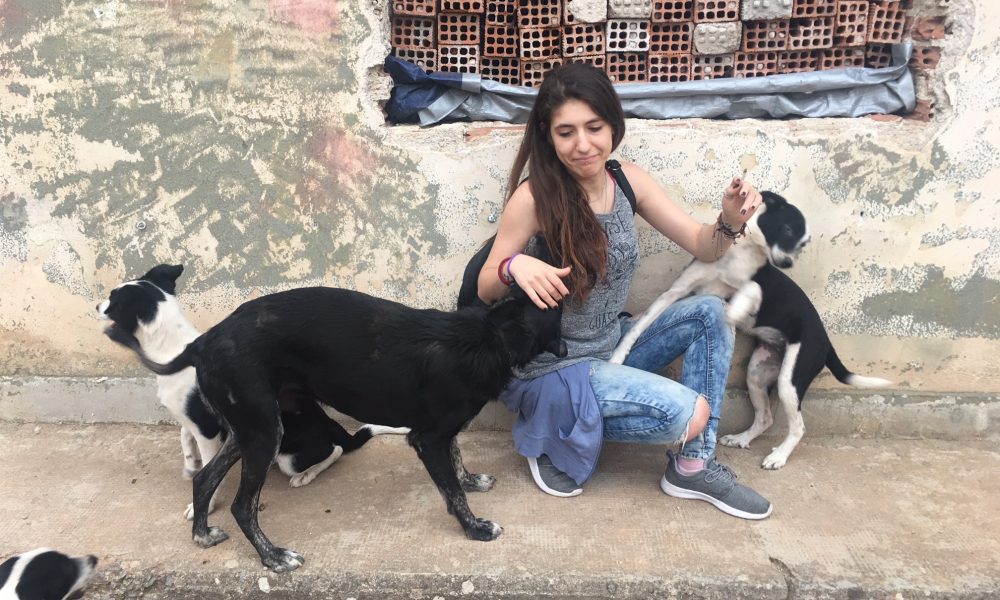 We also visited Aspropyrgos train station, to which a pack of stray dogs has attached itself, weirdly sitting around on the platform with the commuters, as though they, too, were waiting for the next train. Some of these dogs looked healthier than others we had seen, as the volunteers regularly drop by and put dry food and water out for them. The local Station Security Officer also seemed keen to help.  It's always a good sign when locals take some responsibility for stray animals.
Nevertheless, as the we left with the sun setting over Athens we were feeling downhearted.  All 'The Ghost dogs of Aspropyrgos' volunteers can do is try and address the worst cases of cruelty, neglect or welfare issues they come across, and they can't possibly cover the whole of the Aspropyrgos area. They know it's not enough just to see a few lucky dogs find the chance of a good life through well-intentioned (and mostly foreign) 'pet adoption' schemes.  But they strive to do what they can with little help and no regular funding. They get no recognition from the City of Aspropyrgos Municipal Government, whose legal responsibility it is to care for its local strays.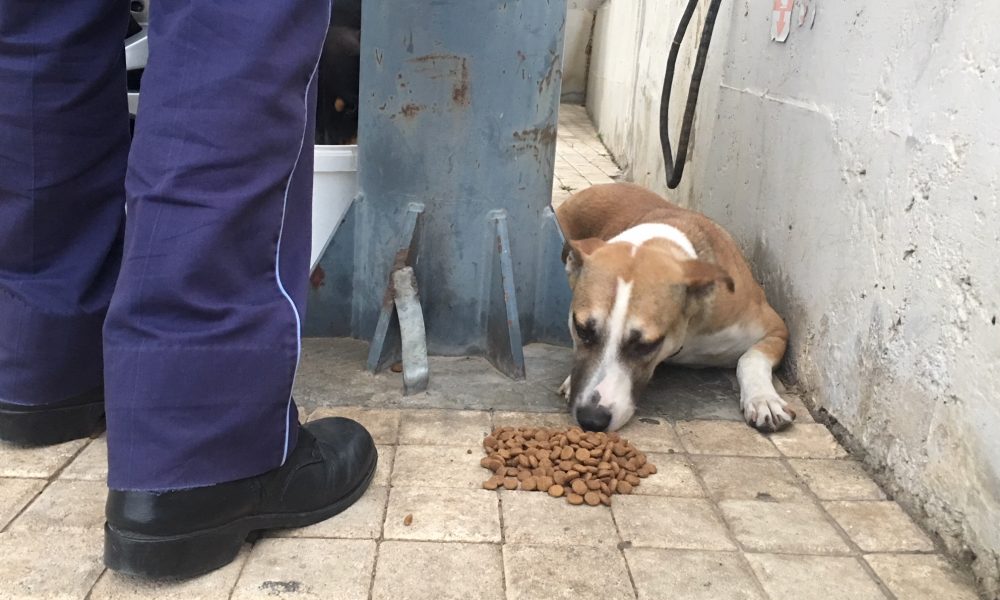 Like Alex, I believe the Aspropyrgos dogs have a right to a 'good life' and to be cared for.  But faced with the scale of the problem, all you can do is keep faith with the cause of changing attitudes towards animals in Greece, help stray and abandoned dogs and cats as best you can, support people like Alex and his fellow volunteers, and call on the goodwill and support of those who do value and respect animals.
Paul McGlone
Acting Director
Animal Action Greece