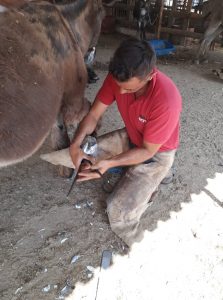 Earlier this month we made a lightning visit to the Agia Marina Donkey Rescue in Crete for a relief-giving 'teeth and feet' session. Aris and Alkis brought their farriery and dentistry skills to the 24 animals Fanis and Barbara care for there. Most are long term residents but there are also 7 newer arrivals.
The case of the stallion, "Hercules", particularly caught our attention: While working on the tiny island of Herakleia the poor donkey had collapsed under the weight of the load he was being asked to carry. As a result, his owner had beaten him cruelly, which, as fate would have it, turned out to be Hercules' ticket out of there and to a better life! The abuse was reported; there was a court case, and – thankfully – an order was made for Hercules to be permanently removed from his owner. He travelled to Crete where Fanis and Barbara had agreed to take him in. Even though it's likely he had never before received the attention of a professional farrier or dental technician, Hercules seemed to know instinctively that Aris and Alkis were there to care for him, and he stood patiently while he had his teeth checked and his sore feet trimmed.
So many donkeys in Greece are no longer needed as smallholders leave the land or modern farm machinery steadily replaces
them. Many end up sadly neglected. The few sanctuaries that provide some of them with a dignified retirement are struggling to cope. With most of them closed to visitors while the world tries to deal with Covid, their funds have taken a hit. We know the relief our professionals can bring to the elderly or abused animals they care for is more important than ever.
Thank you for supporting our work.