"Don't you just love my shiny gnashers?"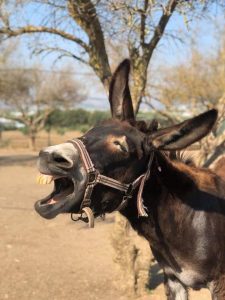 This is one of the donkeys being cared for in Crete by the lovely people at Agia Marina Donkey Rescue, near Heraklion. Our Equine Team was there in May supporting two refuges that take in abandoned and abused donkeys, ponies and mules (the other is Walk With Donkeys Sanctuary, near Ierapetra). Our specialists extracted two rotten teeth for one patient, while another, whose overgrown teeth were preventing the horizontal chewing action that's so essential to a donkey's digestion, was immediately eating normally again and should now start to regain her lost body weight.
We're so glad to be able to bring relief to these animals, many of which have suffered long years of hard work and richly deserve all the love and pampering the two not-for-profit organisations are able to offer them, but we can't do it without you.
You can make it possible for us to go on sending our professionals to remote parts of Greece where the quality care that every animal should have an unquestioned right to, is an unhoped-for luxury. Please, could you make a small donation today? You can use this link: https://www.animalactiongreece.org/donate/
Thank you so much for everything you do.