No one writes to the papers about these animals and their working conditions…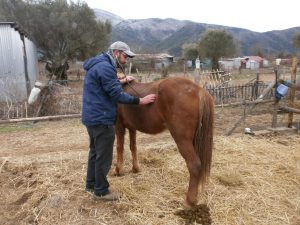 Up in northern Greece, in remote mountain villages where tourists never venture, whole communities depend on forestry.  This is not the Greece of the brochure, with little whitewashed houses clustered next to a sandy bay and an azure sea.  Here, the weather can be brutal and the mountain peaks frequently snow-covered.  To reach the wooded lower slopes, the loggers use mules.  The animals drag heavy tree trunks down over rough terrain to where they can be loaded onto trucks.  The mules are essential partners in this work and, together with their owners, they endure all the hardships that come with a low income, a remote location, and a lack of access to services.  The relative prosperity that comes with the tourist dollar never reaches this region, so the Animal Action Greece Equine Team's visits are most eagerly anticipated.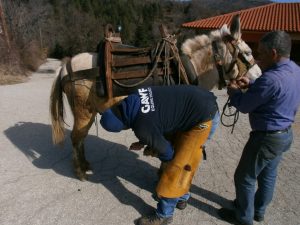 During our most recent one, at the end of February, we were able to help 103 animals, easing their lives by treating common conditions affecting their teeth and feet, and helping their owners to understand the causes better so that they can take preventive action in time.   Our vet, Michalis, was able to provide emergency treatment for a case of colic.  He was joined on this visit by our newest farrier, Vassilis, who having received training from both Giannis Brastianos and Alex Hall during Animal Action Greece seminars in the past, was able to contribute brilliantly.
Your support is vital.  We are able to go to unglamorous destinations and make a difference to the working animals there, relieving suffering and passing on essential skills and knowledge only because of the donations we receive.  Please consider helping us to keep going today.  You can donate towards this essential work here: www.animalactiongreece.org/donate