Our equine team have been visiting the Greek island of Paros for 12 years, and during our most recent visit in September, we were pleased to see how our ongoing support has improved the welfare of the working equines and attitudes of their owners. We treated 58 donkeys, horses and mules, all either living in fields as pets, used for light work carrying loads, tourist riding or retired working animals.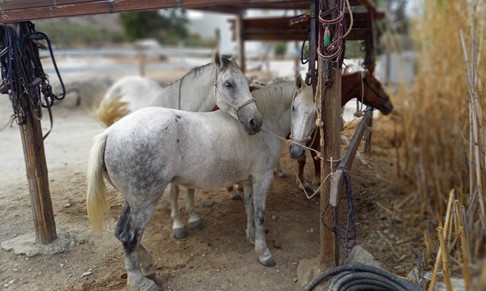 Each year that we visit, owners become more trusting and receptive of our work. It was hugely rewarding to see owners stop the practice of hobbling and using alternatives instead, and the general health of the equines vastly improved, with 48% at ideal body condition, 47% overweight, and just 5% slightly underweight. The owner of one donkey, Kleopatra, who was checked by our vet and received farriery and dental treatment, had previously contacted our vet, Elisa, 2 and 4 months earlier, receiving necessary advice and medical support for her laminitis. He showed his gratitude for our help and support during the year by kindly making a donation to our charity. It was humbling to see him following advice and putting up a 'do not feed' sign to prevent passers-by from feeding Kleopatra, therefore avoiding colic and crises of laminitis.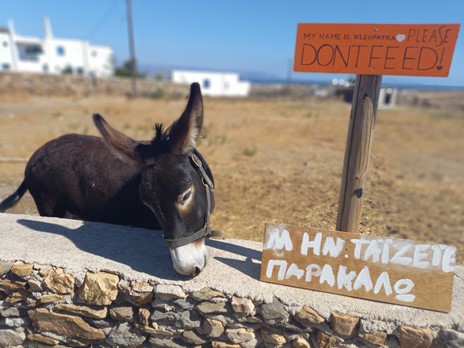 Other elderly donkeys, Militsa and Mini, had received special food for elderly donkeys with worn down teeth, which saw them through the harsh winter, and Tasos trimmed their overgrown hooves which soon had them running around happily again in their retirement with goats for company! We might be an equine outreach team, but will certainly help any other animals that we may come across; as it happened with a beautiful ram who had overgrown hooves; Tasos trimmed them back down to a comfortable length.
Our final visit was to a Monastery in Paros where nuns owned five donkeys, all of which were found in great condition, with the nuns taking good care of them. They were very happy to see Betty, one of the donkeys, walking around happily again, after Tasos trimmed down her overgrown and slightly distorted hooves.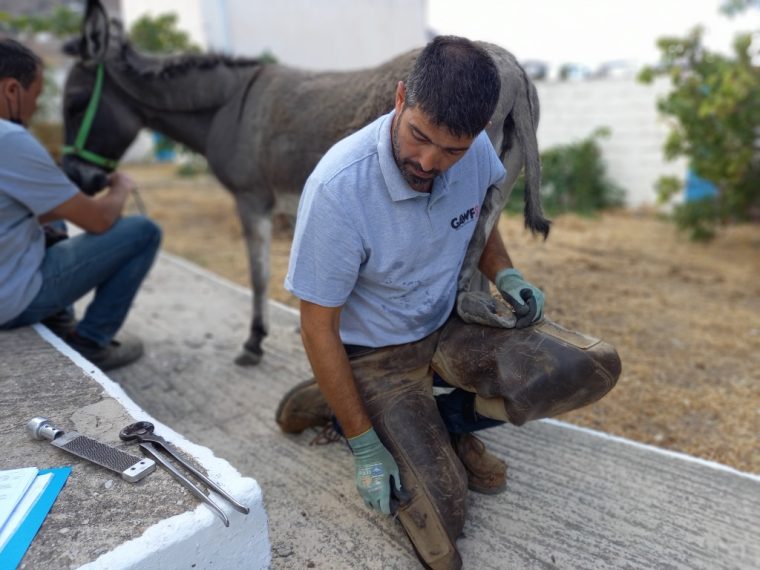 After so many years of visiting Paros, we're proud to say that there is one young owner on the island, Stelios, who is able to trim and shoe equine feet, and is very interested to learn more about farriery. We arranged for him to have a seminar with our farrier where he trimmed and shoed two of his horses, step by step under guidance, improving his practical knowledge. As the old saying goes – give a man a fish and he will eat for a day, teach a man to shoe and he will have healthy equines all year round! It was a successful visit, we are looking forward not only to returning next year to treat more equines in need, but also to working during the year on our #FourFeetFree project and achieve more, important and positive results.