WHY DO THE MOST DIFFICULT CASES ALWAYS TURN UP AT THE END OF A LONG DAY?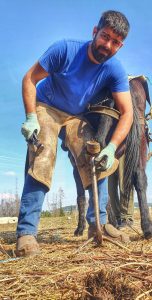 On March 14, as the country was entering lockdown, the Equine Team managed to fit in a day's work in what for us is a new location… the area around the northern towns of Kilkis and Serres. There are many working horses and mules there, so equine vet, Michael Gaganis, and our latest addition to the team, farrier Tasos Skyllas, took more time than they usually would explaining the causes of painful laminitis, the importance of correct feeding, and other aspects of equine care. Even so, they managed to treat 25 animals and gain the trust of owners most of which had never had contact with our team before.
Towards the end of our very busy day the inevitable happened. We were called to visit a heavily pregnant mare said to be in trouble, and Michael could tell his most urgent case had been saved to the last. He was immediately concerned for her. The mare's belly was unnaturally low, indicating serious weakness or a possible rupture in the muscle wall of her abdomen. Michael showed the worried owner how to protect and support it using a wide band, and advised that the expectant mother's movement should be restricted and that she should be moved to as quiet a place as possible.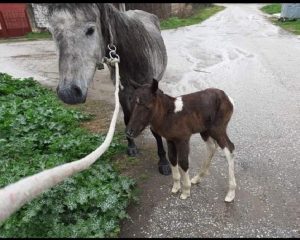 Although she was potentially at risk, Michael's opinion was that a successful delivery of a healthy foal was still possible. And, thankfully, so it proved. A few days after our visit, the relieved and grateful owner called us to report that the mother and her new foal were both doing well. Now, we can only hope that the extra time Michael and Tasos took to build trust among the owners that they met, will mean that their advice concerning this new mother will be taken seriously and followed, and she will never be allowed to get pregnant again.
Please don't forget the animals during this most challenging time for all of us. If you can spare even a small amount to support our work, we'll be able to go on bringing relief to horses, donkeys and mules working in the more remote areas of Greece that visitors seldom get to see.
Thank you for caring.