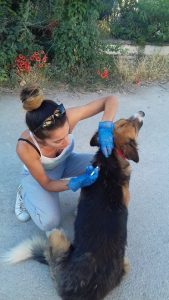 September 2017. Life is terribly tough for the strays of Mandra but, thanks to our supporters, there is hope. Back in June we asked you to contribute to help the dogs that the wonderful Anthilena is caring for, all on her own, at the shelter she runs in this deprived area on the outskirts of Athens.
At the time, two of the dogs had been diagnosed with tumors that needed to be surgically removed. Sadly, one died before we could raise the money needed, and the other was found to be too weak to survive a major operation, so treatment was started in the hope of improving its condition. Unfortunately, we were too late and Anthilena reports that it, too, has now died. This is terribly sad and disappointing news – especially since caring people had contributed funds to try to save the two dogs, and we had been feeling so hopeful!
While it was hard for Anthilena to come to terms with her loss, there are always more dogs that desperately need her, so she mourns the lost souls and carries on providing the best care she can to the living.
Now, she'd like you to meet the latest additions to her "life-saving surgery" list: "Arnaki" ("Little lamb") and "Romy" both have tumors that need to be removed, and it looks as though – this time at least – we will be in with a better chance of saving them! So that's how the money we raised in June will now be used… to give these two characters the chance of a future! What they will then both need is a loving home. But let's not get ahead of ourselves… for the moment we – and Anthilena – are just concentrating on restoring them to health!