Another island recently visited by our Equine Outreach team is Kea. The team have not been able to visit for a few years due to the pandemic, but on 1st and 2nd October they were welcomed back with open arms by the owners of the island's equines.
Vet Kostas, dental technician Alkis and farrier Tasos offered their services to 44 equines (19 donkeys, 14 mules, 10 horses and 1 hinny), and were impressed with the good general condition of the animals they visited. Due to the lack of visits from equine professionals in recent years, there were of course a number of animals requiring dental treatment, hoof trimming and veterinary care and advice. Two donkeys, 15 year old Sotiris and 11 year old Irini, were suffering with overgrown hooves and consequently, chronic laminitis. Tasos trimmed their hooves down with excellent results, immediately relieving discomfort, and instructed their owner on proper management. Others had sharp edges on their teeth, which can cut the tongue and cheeks, and cause ulcers, these were treated by Alkis with tooth rasping. Our team gave advice to many owners on proper nutrition and general management, as well as alternative, less restrictive ways of restraining their animals, as unfortunately the unacceptable practice of hobbling is still common in this area.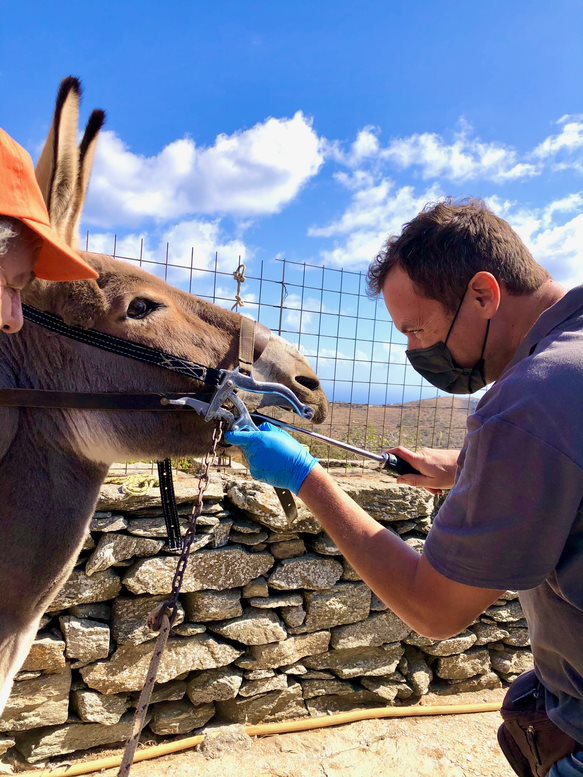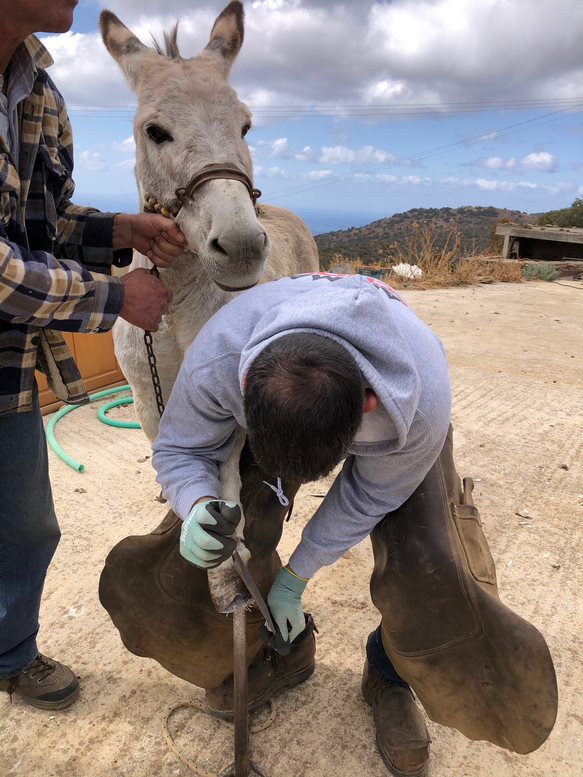 It was a difficult and demanding trip, travelling across twelve villages in two days! But the satisfaction was widespread in our team, and in the faces of the owners, who asked us to visit again next year. Many thanks to Eva Papadimitriou for offering the team dinner, to Dimitris Stoupakis from DonkeyLand, who came with us, for the beautiful photos that he kindly took and to the equine owners who made donations. Special thanks to Giannis Mouzakis, who was with us throughout the trip, helping with the organisation and generally making our work much easier.