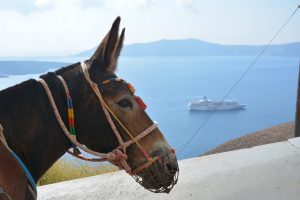 Following a public outcry about overweight tourists using donkey taxis, CLIA (Cruise Lines International Association) is backing The Donkey Sanctuary's new campaign to protect working donkeys and mules in holiday hotspots such as Santorini.
International animal welfare charity, The Donkey Sanctuary, welcomes CLIA'S support as it launches In Their Hooves – a campaign asking holiday makers to stop and think before taking donkey or mule rides in Santorini and other holiday destinations.
Key to the campaign is an engaging video asking tourists to consider if working donkeys and mules are being given sufficient basic care, such as fresh water and shelter from the sun, before making an informed decision about riding them. Holidaymakers are also encouraged to consider if animals are being treated humanely by their owners or being forced to carry inappropriate loads – either tourists or luggage.
In Their Hooves follows a successful working partnership between The Donkey Sanctuary and Santorini's municipal authorities to increase tourists' awareness of key animal welfare needs while safeguarding the livelihoods of donkey and mule owners and traditional Greek culture.
Barbara Massa, The Donkey Sanctuary's regional director for Europe, says: "We've seen great progress through our working partnership with the Santorini municipality. They have helped us to deliver training to local enforcement bodies as well as supporting a revision of the existing Code of Practice for working equines in Santorini, which will be discussed during the next visit.
"We are excited to launch the In Their Hooves video and we hope visitors to Santorini are able to make informed decisions about the welfare of working equines they will see there. We will continue to work with the municipality, providing training to equine health service providers and also the animal owners, all of whom are critical to improving the working conditions and practices on the island."
CLIA is the cruise liner industry's largest trading association and over two thirds of all European cruise companies docking at Santorini are members. Cruise passengers will be able to see the In Their Hooves video on board liners heading to Europe and supporting information leaflets will be readily available on board liners docking in Santorini.
Kate Ferguson, global programme manager at The Donkey Sanctuary, says: "We are delighted to be working in partnership with CLIA to launch our In Their Hooves animation. Both our organisations share a vision of sustainable tourism in Santorini; we believe that together we can encourage tourists to make sound choices while also supporting equine owners to sustain their income, which is so dependent on the use of working donkeys and mules, by providing training on mules and donkey care, handling and diet."
Tom Boardley, secretary general at CLIA Europe, says: "Over recent years we have had several complaints from cruise passengers about the way donkeys were being treated on islands such as Santorini: for example, where rides are offered on donkeys and mules that have been tethered for hours on end in the hot sun unable to access water. We fully support The Donkey Sanctuary's In Their Hooves Campaign and hope it will go some way to reassure our passengers that we care about animal welfare in destinations on our members' cruises."
The Donkey Sanctuary has been working in partnership with Animal Action Greece and visiting Santorini to deliver joint equine outreach since 2000. More recently the charity has redoubled efforts to work alongside the Greek authorities to establish better working practices. During a welfare assessment trip in August 2018, Santorini's mayor Anastasios-Nikolaos Zorzos made welfare commitments, including improved access to water and shade, particularly in the main tourist area of Fira.
The Donkey Sanctuary followed up on its own commitment to provide welfare training to police and municipality staff working in Santorini. The charity is due to return shortly to follow up on Mr Zorzos' promises as well as provide more training, this time for vets and donkey taxi owners.
The plight of Santorini's donkeys often hits the news in the summer season with sensational headlines about donkeys and mules being forced to carry unreasonable loads in the heat of the day and without adequate welfare provision. The Donkey Sanctuary hopes that as more and more people watch the video, they will ensure that they remember the #intheirhooves messaging any time they pay for a donkey or mule service.
Ends.
Notes to Editors:
The Donkey Sanctuary was established as a charity in 1969 by Dr Elisabeth Svendsen. Her devotion to championing the cause of donkeys is the foundation for the international charity it is today. The Donkey Sanctuary's vision is a world where donkeys and mules live free from suffering, and their contribution to humanity is fully valued. The Donkey Sanctuary has 10 sanctuaries around the UK and Europe providing lifelong care to over 6,000 donkeys and mules. It runs a Donkey-Assisted Therapy programme across the UK, which benefits children and adults with additional needs by allowing them to connect with donkeys on an emotional and physical level. It also operates in many countries around the world, including Mexico, Peru, Egypt, Ethiopia, Romania, Portugal and India. Donkeys are stoical creatures and those who depend on them for their livelihood often take advantage of their hardworking traits. The Donkey Sanctuary's outreach embraces veterinary care, nutrition, housing, working hours, weight of load and welfare-friendly harness and cart design. It is collaborative in all its activities, working through a network of partner organisations, individuals and communities.
Note to Sub Editors:
Please note that the name 'The Donkey Sanctuary' should not be abbreviated to the Donkey Sanctuary, the word 'The' should always appear with a capital 'T'.