Naomi and the volunteers of CAR, Loutraki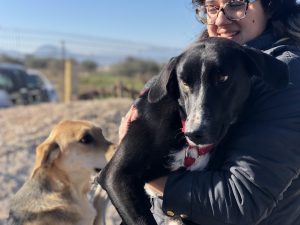 On Wednesday, 22 January 2020 our own Sophia and Serafina took a 81 km journey to the seaside spa town of Loutraki, close to the isthmus of Corinth and its famous canal.  There, they met with the inspiring volunteers of Corinthia Animal Rescue (CAR), the local welfare group.  We wanted to visit as we had made the decision to donate the cost of 10 spay/neuter surgeries to the group.  CAR have been pleading for our support for some time and we are keen to respond to volunteers who are working in a well-organised way to get some control over the number of strays in their area and improve the health of their local street animals.
Although Loutraki is a resort that buzzes with visitors in summer, outside the town there are large areas of waste ground as well as an uncontrolled landfill site.  Many stray dogs have moved in and made their home there.  Naomi had been found abandoned in one of those dangerous places with no one to care for her. Thankfully, the volunteers intervened to move her to a different location with other stray dogs and she is now under their protection. It's of course not ideal for her or any other dog to live on the streets but the small, unofficial shelter CAR have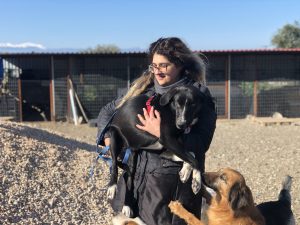 set up simply does not have room for all of them, so at a few carefully chosen locations around the town CAR has established a number of unofficial 'care spots' where the volunteers can easily find the dogs they know, monitoring their health issues and providing food. The shelter is usually reserved for sick animals that require treatment before they can survive life on the street. Naomi, however, was recently in heat so, to avoid a pregnancy, the volunteers decided to keep her at the shelter until she could be spayed.
As soon as our two ladies arrived, Eleni, Areti – President of CAR – and Areti's daughter, Myrto, gave them a quick tour of the shelter, proud of the new roofs they have just installed. All three seemed excited to meet us and couldn't stop telling us how grateful they are to have our support, since finding the means to pay vets fees for spay/neuter surgeries is the greatest challenge they face. Soon after, we were introduced to Naomi who was too busy enjoying Myrto's affection to feel any anxiety over a mere ride in a car!  So, everyone piled in for the trip to the vet.
When we reached his clinic, Dr Giannis Lekkas treated Naomi like royalty. Not all Greek vets are true animal lovers so it's a delight to meet one that so clearly is!  Dr Lekkas made an instant connection, constantly caressing Naomi and telling her how beautiful she was.  (We had the distinct impression that all his lucky patients are received this way).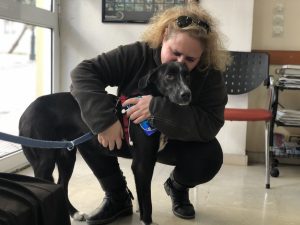 Naomi was successfully spayed and has since been healing nicely under the watchful eyes of the CAR volunteers at their shelter.
Once she's fit and well, she'll be freed at one of the 'care spots' she is already familiar with.  Then she'll have to make her own decisions about where to live and what company to keep.  CAR make every effort to find forever homes for the dogs they care for.  Perhaps Naomi will be one of the group's lucky "adoption ready" spayed, microchipped and vaccinated dogs that finds a loving forever home one day.  Last week she certainly succeeded in stealing Sophia and Serafina's hearts!