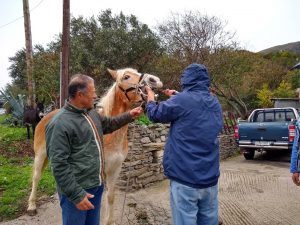 Between 12 and 14 November 2019, the Animal Action Greece Equine ProjectTeam was on the island of Andros to examine and care for the working equines there.
On the second day of the visit, the team had to work in challenging weather conditions as it rained all day.  Nevertheless equine vet, Michalis Gaganis, and farrier, Aris Vlachakis, covered a total of 308 kilometers as they moved between 22 villages and took care of 82 equidae: 55 donkeys, 21 horses and 6 mules.
The animals were examined carefully and received routine dentistry and farriery care as needed.  Naturally when the team came across other treatable ailments they dealt with those, too.
As that portion of the island's population that still uses working equines ages, so do its animals.  The help we have provided over the years is greatly valued – as evidenced by the fact that we are always most warmly welcomed; the participation of local people is high, and we always have many cases to deal with.  It's rather sad to bear witness to a way of life that is fading as the older generation retires, but here and there we see signs that it will persist for a while longer.  In some cases the younger family members show interest in learning how to care for their animals properly and we can tell the traditions will live on.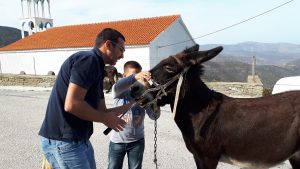 One or two cases stood out: there was a mare clearly suffering severe pain in her feet because of chronic laminitis. Aris trimmed her hooves to provide as much relief as possible, while Michalis gave treatment and instructions – which included the recommendation that she should no longer work.
Another mare who was showing signs of colic was seen by Michalis.  He administered treatment together with precise instructions about what she should be fed over the next 24 hours and what exercise she should have to reduce the risk of serious complications.  Colic can be fatal.
As usual, we found animals with overgrown hooves (unfortunately in Andros there is no resident farrier) and these were corrected by Aris who had to spend a great deal of time over some of his 'clients' as not all of them were used to having their feet worked on.
Then there were the cases that brought smiles to our faces, like that of an elderly donkey "Babe", that had been found abandoned and in a miserable state by Petros and Julia, a couple that lives in Andros and is actively involved in animal welfare. They came across her outside a village, tethered and abandoned and took her home with them to their where she could live with the other equidae they have.  Our team offered her all their professional skills.  Her teeth in particular were in a bad way, with very sharp edges that were causing painful ulcers to the soft tissues in her mouth.  Judging by the state of her, Michalis could tell this was probably the first time she had ever received dental care.  Now she can spend the rest of her days moving about freely in the company of her new friends, and enjoy her food pain free.
Animal Action Greece / Animal Action Greece has been visiting Andros for over a decade. The impact of the visits is evident, as the condition of the animals has improved.  As in other places that aren't on the heaviest tourist trail, the need for such support is clear. There is a substantial population on the island that, although it may be aging, still uses equidae in its daily work.
Michael and Aris bid farewell to Andros once again, feeling satisfied that they had been able to improve the lives of many animals through the care they had given them, while at the same time they supported the owners whose knowledge is growing as they observe what they do and listen to their advice almost every year.
 We would like to thank John and Sarah for their offer of accommodation and travel to the island, Peter and Julia for their voluntary work, Irene for the excellent organization of the programme and the local veterinarian, Smaragda, who took a day out of her tight schedule to be with us and help our action. Without these people it would have been pretty much impossible to achieve such a productive outreach trip.