Welcome to our monthly feature, "A day in the life of…" which will share the tale (or should that be tail…) of some of Syros Cats best-loved residents. This month, we're hearing from Pumpkin, aptly named for October's edition.
I really like a good fight. It's such fun creeping up on the other cats when they're sleeping, waiting for them to wake up and nearly jumping out of their skin when they see how close I am.  Of course, I pick my fights, because I'm a small cat – and I like to win…  Right now, I'm nursing a swollen paw. I pounced on a cat, but she was ready for me and bit me hard. I'm getting painkillers, but my carers aren't really very sympathetic. Some cats I hate and I know they hate me and if we're both in the mood for a fight, it can turn serious. When I get mad, I just lose all control, make a big noise and go in for the kill. I'm not usually that successful and if my carers hear me, they throw water on us and put me in a naughty cage for a couple of hours. Sometimes I fight with Frosty. But he's sneaky and makes it look like it was my fault, so I get the blame.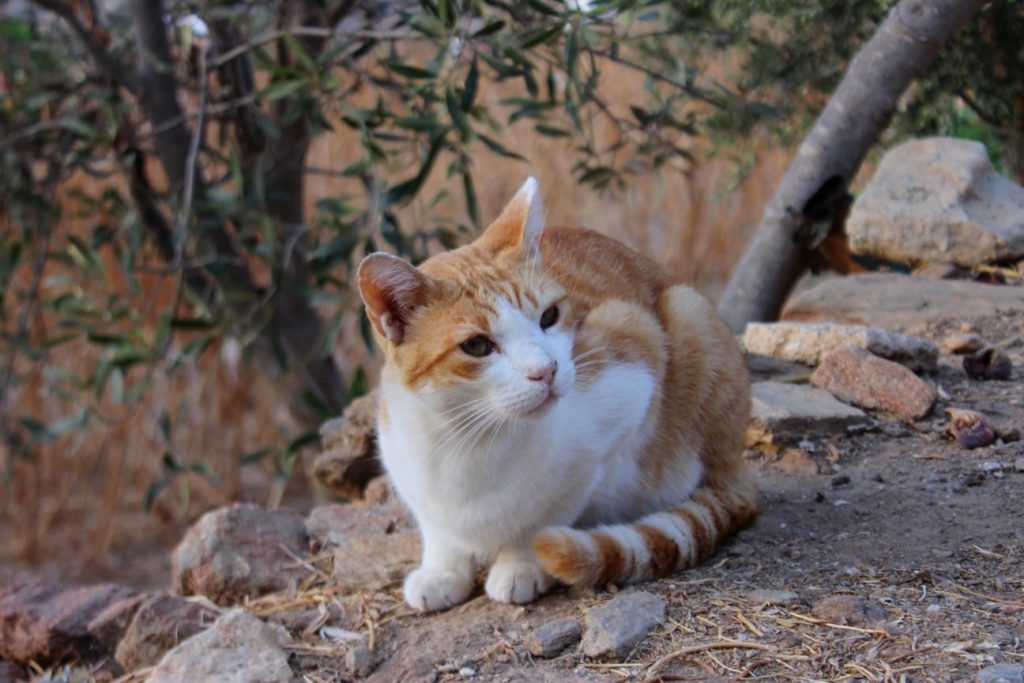 I've been here a long time. My arrival wasn't straightforward. I was born in the city of Hermoupolis and one day, I was feeling a bit cold, so crawled into the engine of a car, where it was nice and warm. Of course, the car moved and I didn't get out fast enough. I clung on for my life for about fifteen minutes and as the car stopped, I was so exhausted, I fell onto the ground. And it wasn't a soft landing…
Luckily for me some kind people picked me up and made a fuss of me. When they left, I went home with them. I had another ride in a car, but it was more comfortable this time. I stayed with these people for a while and had plenty of food and strokes, but they didn't give me a name. This is always worrying and I was concerned that they weren't staying permanently in Syros. Sure enough, I was right. They packed their bags. They were leaving me behind.
But it was all ok eventually. They took me to another place, where there were lots of cats. I had to learn to get on with them and had a few problems. I had a bad ear infection and now my head is a bit tilted, but I like to think I have a handsome look. I damaged one of my eyes in a fight. I know this was my fault, so now although I can still see everything, I'm a bit squinty. I go inside every night as my carers here think I might start fighting. And they are right. But I don't mind, I have a good big cage with a warm bed that my sponsors sent me as a special present. I love it, it's so comfortable. And at night and in the morning, I get yummy wet food and biscuits to graze on, if I wish. They give me a litter tray, but mostly I don't use it, I prefer to wait and have a good dig around when I get let out in the morning.
And the business of my name… one evening one of the helpers picked me up and gave me a cuddle before I went in my cage. 'Come on Pumpkin', she said. It was a term of endearment, but somehow the name stuck.  I'm certainly the colour of a pumpkin and am very happy to have a name of my own. Now at last I can feel secure.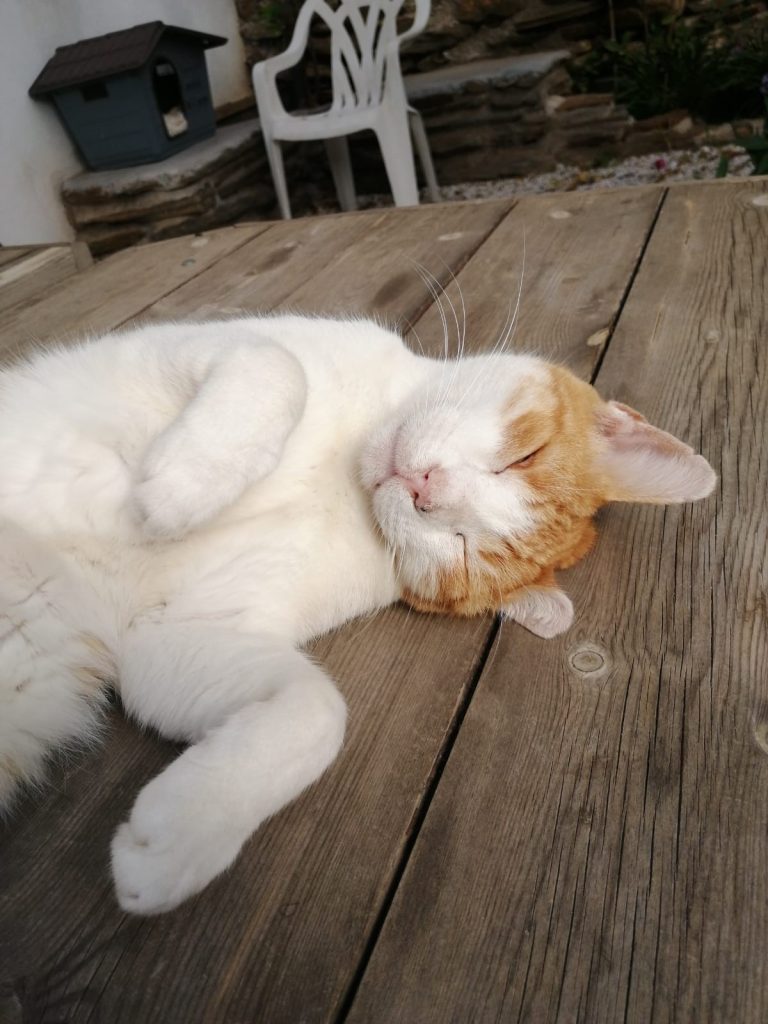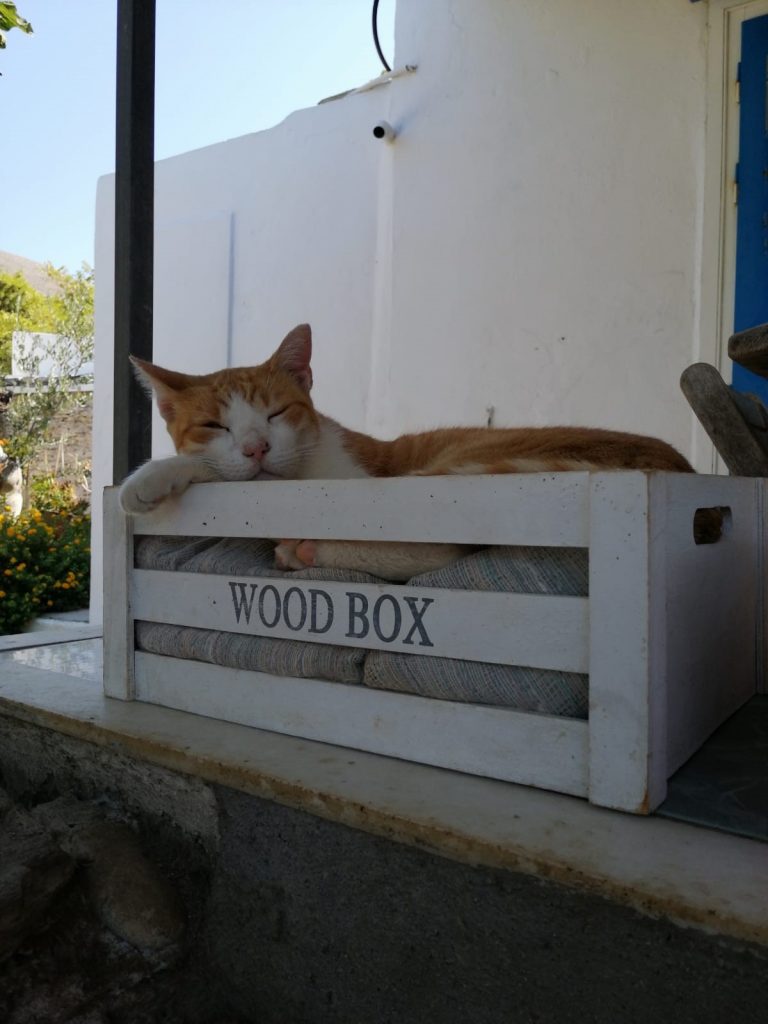 A huge thank you to the incredible team at Syros Cats for rescuing Pumpkin and for letting us share his success story with the world.
Subscribe to our newsletter to be the first to hear next month's instalment of 'A day in the life of…' and all the latest news and stories from Animal Action Greece.