Our Taxiarchis Animal Welfare Clinic has now hosted three sterilisation outreach trips and we have many more to come! What began as an emergency station to be used to treat animals in the wildfires of 2021, has turned into a permanent fixture for sterilising, vaccinating and treating the stray cats and dogs in the area. 
After being postponed due to a case of Covid in the veterinary team, our rescheduled outreach trip just took place in February and we completed four whole days of sterilisations! At the previous outreach in September, one of the beautiful dogs we met was Scooter, a young adult male who was living with a pack of dogs in a village near Taxiarchis. A local contacted Artemis to let them know that the little dog was not in good shape and when they went to collect him, the problem became obvious, he was full of mange. Our vets examined him and cleaned the cracked, bleeding wounds that mange had caused. They decided not to operate on him as his skin was so fragile and he was too weak. So, the Artemis team kept him safe and gave prescribed medication to help his skin heal. He was named Scooter because, despite his condition, he was full of energy and constantly running around like a little scooter! He was brought in for a check up by his foster this weekend and we got to see his much improved condition. His skin is healing well and he has grown lots of fur. He is the sweetest boy, enjoying attention and cuddles from everyone. It was fantastic to see his wonderful transformation.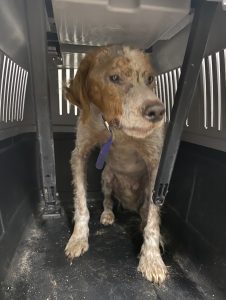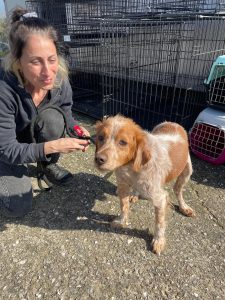 Another dog the clinic has saved is Choco. She is around 14 years old and was notoriously difficult to catch, consequently giving birth to new litters all the time. A family who visited their summer house for the holidays saw her hanging around and kindly fed her and gave her water, while contacting Artemis to catch her. Surprisingly, she was easily captured and finally brought in to be neutered! During the operation, the vets discovered that she had a large malignant tumour in her uterus, and if she wasn't spayed, would have suffered a horrible painful death from the cancer. Thankfully, she is now fully recovered.
February is World Spay Month, and on this outreach trip we focused on catching and spaying females as it is breeding season and many will soon be pregnant and giving birth to kittens. With the help and expertise of Alexis from Alma Libre – Hellenic Animal Rescue, the team caught and neutered 109 cats and 21 dogs! One of the cats caught was a male with a severely injured tail, most likely caused by fighting. This terrible injury must have been causing him a lot of pain. Our vet managed to amputate what was left of his tail and neuter him at the same time, so hopefully he stays out of trouble for now! It was fantastic to see the traps and nets in action, catching many females who would have otherwise been giving birth to kittens on the streets this year. The help and expertise from Alexis and volunteers with lots of trapping experience made the outreach a great success. We can now look forward to monthly outreaches, making an even bigger impact for the animals!