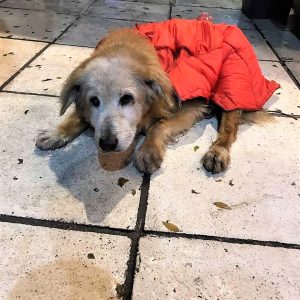 This old lady has been 'sleeping rough' all her life. (She's about 17 years old). But now, after a 'special case' appeal from the Municipality of Athens, (Δήμος Αθηναίων) we have given her her very own kennel.
Over the years, local welfare volunteers have made repeated efforts to bring Kanella, a street dog in the central Athens district of Kipseli, in from the cold and get her adopted but she has a mind of her own and has resolutely resisted every kindly-meant attempt.
So when we were asked whether we might donate a kennel for her, we agreed that hers would be a great case to use to promote kindness and concern towards street animals, and perhaps even set an example for other municipalities all over Greece to follow!
Our very own Serafina Avramidou negotiated the Town Hall's permission for Kanella's kennel to be located on the public highway, and as soon as this was granted we bought her one!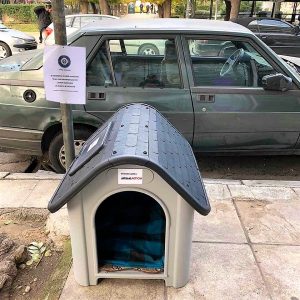 There's now a smart sign to tell passers by that Kanella has permission to be there and that she is under the protection of the Municipality of Athens.
To our delight, we see that our donation has caught the attention of the Greek media and has been very widely reported. So although we obviously can't provide a kennel for every street dog in Greece (much as we'd like to) we can at least show the way and hope that others will follow…
Wouldn't it be great if we could encourage this kind of change for other dogs like Kanella? Let's act together to give them a better life. Please could you make a small donation today?
Thank you for caring. 🐶🧡