Another 'mass cat neutering' on the Cycladic island of Syros came to an end early this June 2019, making a significant contribution to our joint "Cat Population Control Project". This was the year's third spay/neuter visit to Syros and we succeeded in sterilising another 90 cats! That means we have officially sterilised 312 so far in 2019. Working with our partners, Dr. Manolis Vorrisis and local volunteers, our goal is to reach 700 by the end of the year… and it could be even more!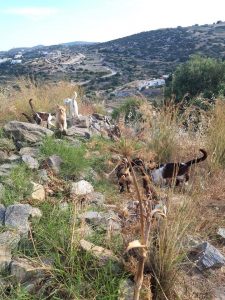 This is part of a 3-year strategy to spay/neuter 90% of the island's estimated cat population of 3,000. The professional advice is that if we can reach that target – and then maintain it – the stray population will stop increasing and stabilise at a manageable level – to the benefit of both cats and people on Syros! There are still six months to go before the end of our first year. Do you think we can make it?

The success of the project to date and the fact that it's on track would not have been possible without the determination of Dr Manos Vorrisis (Aegean Cats, we live together) and the tremendous hard work of the volunteers from Syros Cats – especially Flora Vlachou, who is a total star!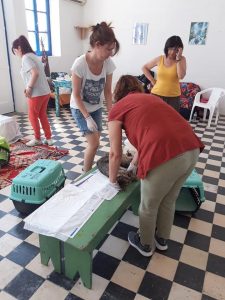 We are always amazed by the number of volunteers that choose to support our project, but this time around even more people showed up to help, so it seems the local community is increasingly convinced of the value of creating a healthy and stable population of cats on the island. The local leadership has ensured that all kinds of people are engaging with the effort, which is vital if it is to have any chance of long term success. Our aim is that, at the end of our 3-year involvement, we will be able to withdraw from Syros feeling confident that the effort has become self-sustaining and we are no longer needed.
You can support us to prove that well-managed spay/neuter programmes give street animals better lives, creating in Syros an example that can be followed all over Greece. Please make a donation today and… thank you for caring and being part of our work.