Our equine dental technician, Alkis, and farrier, Vaios, visited the 32 retired donkeys who live at
Agia Marina Donkey Rescue
in Petrokefali, Crete! The sanctuary has been there for over 25 years, offering peace and safety to old, abused and abandoned donkeys. Half of the donkeys at the shelter are over 20 years old, while Hara, Stefanos, Erotokritos, Kassandra and Alexandra can be proud to have passed well over their third decade of life and flirting with their fourth!
31 donkeys received dental care and hoof trimming in one day, and they were all generally in good health. The main problems encountered were sharp enamel points (much smaller than in previous years), and hooks and ramps (sharp edges that typically develop on the front part of the upper pre-molar teeth or on the very back of the lower molar teeth, and interfere with mastication while also causing severe pain by impinging on the soft tissue). One very loose and rotten tooth was extracted from a donkey, relieving it from pain, and comfort floating (grinding only the very sharp points off) was offered to the very elderly ones, whose mouths were not in the best state. Five donkeys had more severe dental problems and required treatment with electric equipment, which was given during a supplementary visit in April. The most serious case was an elderly female donkey who could not move her jaws sufficiently due to severe overgrown sharp enamel points and extreme angle of the molars' surface, that completely prevented the sideways movement. Extended dental treatment was considered necessary for her to start chewing and moving her jaws again. Since dental treatment is required gradually and regularly in these cases, Alkis will repeat her treatment voluntarily in several months' time.
Another donkey named Hercules received some extra care to his hooves, having gone through a difficult rescue. He was transported to the shelter in November, with the support of
Caring For The Animals Trust
(CARAT), after having been found abandoned in the streets in a terrible state and rescued in Karditsa, by the local welfare group
Diasozo Animal Rescue
. An interesting coincidence was that our farrier, Vaios, was the farrier who had originally treated Hercules in Karditsa when he was rescued. At the time, Hercules' hooves were overgrown and terribly distorted. It was a nice surprise for Vaios to see his progress while also being given the opportunity to give him further treatment!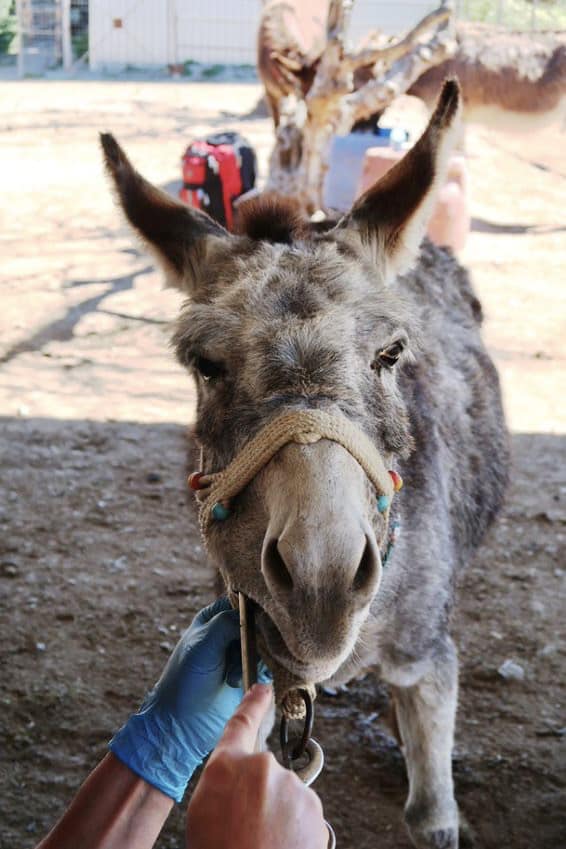 Another donkey visited by our team while in Crete was a very elderly rescue, Odyseus, fostered by responsible owners and living in a village near Agia Marina Donkey Rescue. His body condition had significantly improved since last year, due to receiving dental treatment and a change in food, suitable for geriatric donkeys. Our Equine Care Programme Coordinator, Elisa, had offered invaluable veterinary advice and support over the phone last autumn, when Odyseus had suffered from oesophagus impaction. His owners were extremely worried but followed the veterinary advice and thankfully, he recovered. Odyseus' carers also passed onto the team the warm wishes and gratitude of the owner of an old horse aged 28, Ermis, who we had treated last year. They also showed us current photos that the owner had sent, Ermis has gained weight and is now in excellent condition for his age. 
Donkeys and mules have an important role in many areas of daily life in Greece, and this is still so throughout Crete. Animal Action Greece continues to seek to reach as many of those as possible to provide care and, if needed, educate owners on issues such as proper diet and nutrition to avoid common health problems. Shelters like Agia Marina often see the worst side of animal abuse and abandonment in Greece, when equids are surrendered to them, often injured or near death. They provide an amazing sanctuary to these deserving animals with a happy and healthy retirement! But there are working equids seen in many places on Crete. From the Samaria Gorge mules, managed by the Samaria National Park and used for transport and as 'mule ambulances' for injured walkers, to donkey rides at the 'Psychro Cave' (the fabled birthplace of Zeus the Greek God). Donkeys are also seen in the remote hillside monasteries as well as with traditional shepherds herding sheep on the high plateaus of the 'White Mountains' (Λευκά Όρη). Our role is to ensure donkeys and mules have their welfare seen as the primary duty of owners and those who choose to work with these beautiful, intelligent and loyal creatures to help earn their living!
We would like to thank Barbara and Fanis for their hospitality, as always. Our thanks also to Danny Zie for the beautiful photos and videos! To support the invaluable work that Agia Marina do, please visit their
website
and consider making a donation or sponsoring a donkey!